Semi-truck Gets Stuck in Zion Tunnel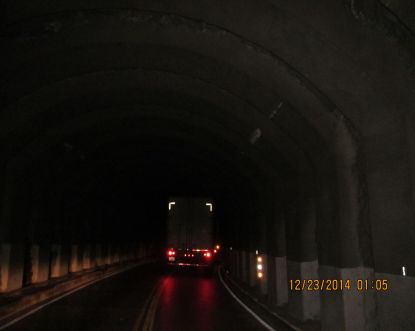 News Release Date:
December 24, 2014
Contact: Aly Baltrus
Springdale, UT- At approximately 11:45 p.m. on December 22, 2014, the park received a report that a semi-truck was stuck in the Zion-Mt. Carmel Tunnel in Zion National Park. The 18-wheeled semi-truck was headed west bound when it became wedged in approximately 600 feet from the tunnel's west exit. The driver was cited for operating the oversize vehicle in the tunnel without traffic control service. The park is investigating potential structural damage done to the historic tunnel.
After 4:30 p.m., daily, in fall and winter, the tunnel is closed to all vehicles that are over 11'4" in height or 7'10" in width, due to no available traffic control service. Semi-trucks, commercial vehicles, and rigs over 50' long are not permitted to pass through the tunnel. Signs at both the entrance station and on Hwy 9 near Mt. Carmel Junction warn motorists of the size restrictions and closure of the tunnel. The driver stated that he was new to the area, that his GPS led him on the route, and that he followed another vehicle through the entrance station without noticing the signs. The driver stated that at the time of this incident, he was headed from Kanab, UT to Las Vegas, NV with an empty trailer to pick up a load bound for Dallas, TX. Commercial vehicles that are not doing business within the park are not permitted to drive through the park because of the historic tunnel dimensions, tight turns to the tunnel's approach, narrow lanes, and wildlife.
The 1.1 mile tunnel is located on the Zion-Mount Carmel Highway and was opened in 1930 in an effort to make it easier for visitors to reach Zion Canyon from Bryce Canyon or the Grand Canyon. At the time of its completion, it was the longest non-urban road tunnel in the United States. The Zion-Mount Carmel Highway and its features were placed on the National Register of Historic Places in 1987.
Last updated: February 24, 2015