Successful Nighttime Search and Rescue in Behunin Canyon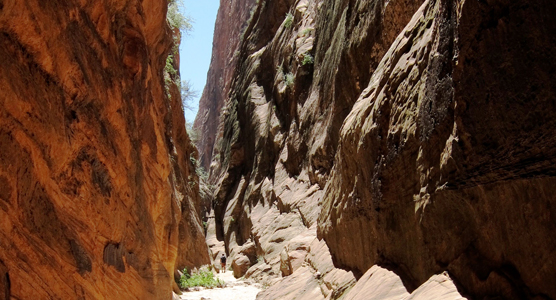 News Release Date:
September 4, 2013
Contact: Aly Baltrus, 435-703-3836
At 5:00 p.m. on Monday, September 2, park rangers were notified of a serious fall in Behunin Canyon, a difficult, nine hour canyoneering route above the Emerald Pools. Three park medics reached the visitor a little after midnight at the bottom of the 5th of Behunin Canyon's nine rappels.

The patient, a 33-year old male from Arizona, sustained significant injuries to his leg, hip, arm and head after falling 100 feet without rope protection. Due to the severity of his injuries and the remote location, Rescue Squadron 66 from Nellis Air Force Base was called in to extract him at night. The Nellis rescue personnel and helicopter extracted the patient and his wife, at 2:23 a.m., just before another rain system came in. He was transported to University Medical Trauma Center in Las Vegas. The park medics spent the night in the canyon and were able to hike out by 1:00 p.m.

"Considering the weather, we were very lucky Nellis Air Rescue was able to respond," Chief Ranger Cindy Purcell noted, "That and his helmet probably saved his life." "His party seemed well prepared for an extended day with extra clothing, first aid kit, water filter, headlamps and a space blanket. They were also able to self-rescue and provide an early report, which helped."

Witnesses reported that in another slot canyon, they advised the victim that he should be tied in near the edge. In this instance, the victim was not tied in at the time of his fall.
Last updated: February 24, 2015