Zion National Park Roads Temporarily Closed Due to Flooding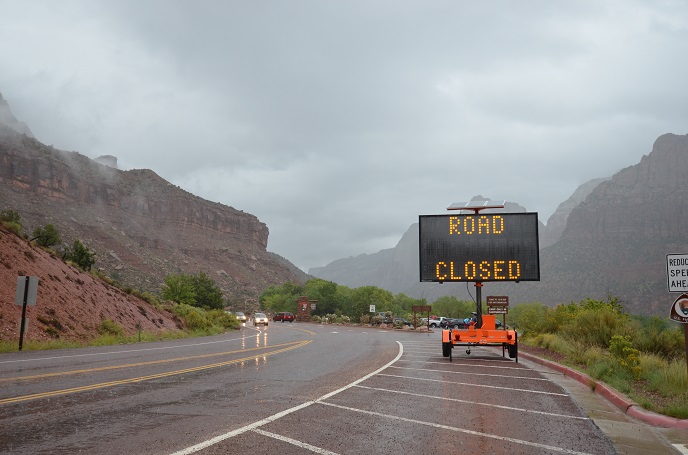 News Release Date:
September 27, 2014 Zion National Park roads are currently closed due to flooding from heavy rains this morning. The rains have caused numerous debris flows of rocks and mud across portions of the Zion Canyon Scenic Drive and the Zion–Mt. Carmel Highway (State Route 9). Park Rangers are also concerned about portions of the Zion-Mt. Carmel Highway being undercut by flood waters. Park maintenance staff is currently working to remove the debris from the roadways and accessing any further road damage. Every effort will be made to open the park roads as soon as it is safe to do so.
All park facilities including the visitor center, museum and campgrounds are currently open. Zion Lodge is also open, but traffic restrictions are in place. There have been no injuries reported at this time.
Zion National Park is under a flood warning until 4:00 pm this afternoon for significant rainfall. As of 1:30 pm today, the park has received approximately 1.5 to 2 inches of rain and it continues to fall.  
Last updated: February 24, 2015