Concrete to Canyons: Engaging Las Vegas Youth in the Zion Wilderness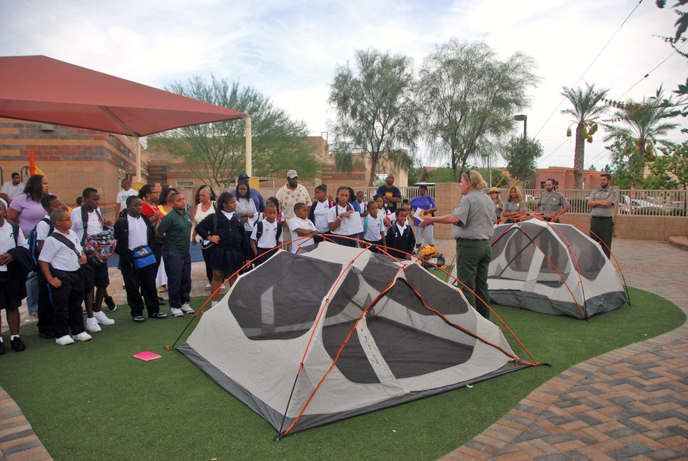 News Release Date:
September 18, 2013
Contact: Aly Baltrus
Thanks to a generous grant from National Park Foundation and Zion National Park Foundation, Zion National Park will be hosting 25 fifth-grade students from Rainbow Dreams Academy in Las Vegas for their first camping experience, September 18-20, 2013, and another 25 students September 25-27, 2013. This pilot program will hopefully connect the first of many intercity youth groups with the idea of national parks and wilderness protection through an immersive three-day, two-night experience at Zion.
Prior to the in-park visit, park staff made trips to Rainbow Dreams Academy to introduce curriculum-based wilderness concepts and to discuss expectations and packing with the participating students and their parents. Following their trip to Zion, the students will visit Lake Mead National Recreational Area and participate in a service learning project. They will also be sharing their experiences through several multimedia, learner-directed presentations. Their creations will be used in a school-wide presentation and made available through the parks' social media and websites.
Zion National Park would like to thank the National Park Foundation and Zion National Park Foundation for their generous contributions. It would also like to thank Rainbow Dreams Academy and its administrators, parents and teachers for participating in this pilot program, as well as Lake Mead for donating the tents and sleeping pads, Southern Utah University for donating the sleeping bags, and Zion Adventure Company for providing the field trip vans and walking sticks for the students at a discounted price. 
Zion and its project partners plan to expand the program to other grade levels, schools and groups in future years, increasing the number of youth and families in Las Vegas that are introduced to the parks and wilderness. "The students are so excited to visit the main scenic canyon and complete short hikes in designated wilderness," said Zion Educational Coordinator Barb Graves. "They will be in the heart of Zion, an experience that may connect them to nature for life." 
Last updated: February 24, 2015