Canyoneer Dies from Fall in Zion's Subway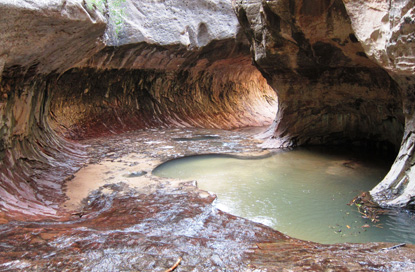 News Release Date:
September 6, 2013
Contact: Aly Baltrus, 435-772-0160
At 3 p.m. on Thursday, September 5, park rangers were notified of a serious fall in the Left Fork of North Creek, commonly called "The Subway." The park's search and rescue crew located the victim slightly off route. She had fallen over 100 feet and did not survive the fall.

The Left Fork of North Creek is a popular canyoneering route, accessible only with a wilderness permit. The 7-9 hour route requires navigating past numerous boulders, ledges, and waterfalls, as well as wading and swimming through several miles of the creek's cold water.

The victim, Ms. Cheri Hass, a 47-year-old female from Ohio, was completing the approach hike (approximately 2.5 miles) to the Subway with friends and was leading the group. It appears she missed a hard right turn down a steep 4th class scramble and instead went towards a cliff edge, when she slipped and fell from view. The woman's boyfriend rappelled down to her while the other two members of the group hiked out and phoned for help. Due to the difficulty in accessing this particular part of the canyon, the park is asking for help from the Grand Canyon National Park's helicopter search and rescue crew for assistance with the recovery.

"The park staff extends their condolences to Ms. Hass' family and friends," said Superintendent Jock Whitworth, "It is truly a tragedy."

This is the second incident in a week of a visitor getting too close to a cliff edge, slipping and falling. On Monday, September 2, a 33-year-old man fell in Behunin Canyon. Although not in the process of rappelling, Mr. Clark Proffitt was wearing a helmet, which likely saved his life. He is in the ICU at the University Medical Trauma Center in Las Vegas.

"In both instances, we strongly suspect that these events were caused by getting too close to the edge of a cliff," commented Whitworth. "Loose sand on slickrock may have been the cause of the falls. Given the topography of Zion National Park, these accidents could have occurred anywhere, even popular trails in the main canyon, including Angels Landing and Observation Point. All of us need to maintain situational awareness and be extremely careful anytime we are near an edge."
Last updated: February 24, 2015