Las Vegas Students Experience Zion National Park Thanks to Concrete to Canyons Program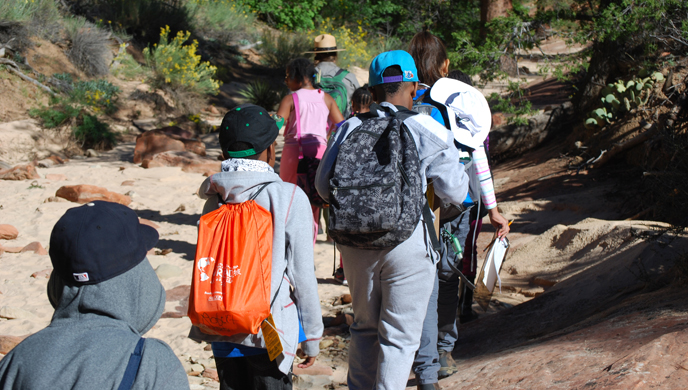 News Release Date:
September 26, 2014
Contact: Aly Baltrus, 435-772-0160
Springdale, Utah- Over the next five weeks, 110 elementary students from Las Vegas are participating in a three-day, two-night experience at Zion National Park called Concrete to Canyons. The program is designed to introduce urban youth to the wilderness and recreation opportunities in public lands. For most participants, these trips will be their first time hiking and camping.
"We are so excited to be having these students here. It is great to see their faces experience the park for the first time," said Zion National Park Acting Superintendent Jack Burns. "The students might even have the opportunity to view the Milky Way, a sight not commonly seen from the well-lit streets of Vegas. It is a good place to think about the bigger, wider world."
Prior to coming out to the park, park rangers visited their classes several times, met with their parents and taught them a diversity of things- from the animals that call Zion home to how to set up a tent. Eight teachers from Rainbow Dreams Academy and Andre Agassi College Preparatory Academy, located just blocks from each other on West Lake Mead Boulevard in Las Vegas, also participated in the first "Concrete to Canyons" Teacher Institute. The group learned more about the park's natural and cultural resources while also participating in some of the same activities and camping situations that their students will experience. Antanus Pullum, a dean at Agassi Prep, shared this thought with rangers after a drizzly but gorgeous hike on the park's east side: "I feel like I've been robbed; this has been in my backyard my whole life and I didn't even know it."
Zion is located approximately three hours from Las Vegas via charter bus. After the students set up their tents and camp, park rangers lead them in a series of activities, including canyon building, animal track investigation, ecosystem exploration and small group hikes in the park's wilderness. They also participate in evening programs, including night hikes and astronomy.
The 2014 "Concrete to Canyons" program was made possible by funding from the National Park Foundation, the Zion National Park Foundation, and the Andre Agassi Foundation. Zion was one of 39 national parks selected to receive a 2014 "America's Best Idea" grant from the National Park Foundation, the official charity of America's national parks. The aim of the grant is to engage diverse audiences in meaningful and relevant ways with national parks and to inspire participants to become stewards of our National Park System. The National Park Foundation grant was matched by the Zion National Park Foundation and the Andre Agassi Foundation to allow more students to participate. Additionally, this program would not have been possible without the help of staff from Lake Mead National Recreational Area and Grand Canyon-Parashant National Monument.
After the overnight trip to Zion, the students will perform a day of stewardship activities closer to home at Lake Mead National Recreation Area and also make a presentation to their school and local communities about their experiences this winter. Project partners hope that this will be the first of many experiences in national parks;to continue facilitating outdoor experiences, Zion will host family camp-outs for participants and their families next summer (2015).
Last updated: February 24, 2015