Zion National Park and UDWR to Manage Bighorn Sheep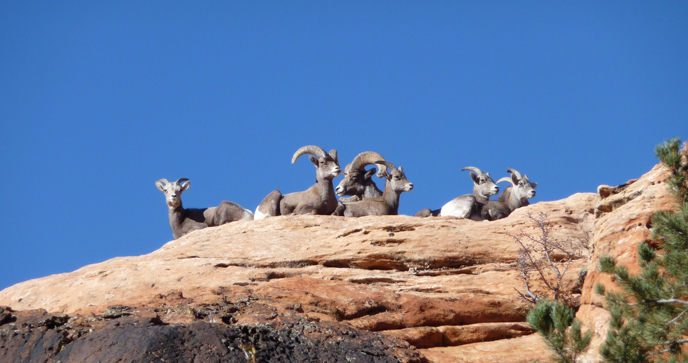 News Release Date:
February 14, 2014
Contact: Fred Armstrong, 435-772-0188
Contact: Cassie Waters, 435-772-0212
Zion National Park, in conjunction with the Utah Division of Wildlife Resources (UDWR), proposes to perform management actions on desert bighorn sheep within the Park. Desert bighorn, a native species, were previously extirpated and reintroduced to the Park in 1973, and have grown to a herd size of more than 500 animals within their habitat on and off of Zion National Park, according to UDWR bighorn program manager Dustin Schaible. Since the core population exists both within and outside the Park, UDWR will perform management actions both inside and outside of the Park; however, this proposal will focus on management actions within the Park.
National Park Service wildlife biologist/disease ecologist Ryan Monello reports that disease is one of the foremost concerns in bighorn sheep management. Contact between bighorn sheep and domestic sheep or goats (all of which are behaviorally attracted to each other) can lead to outbreaks of respiratory disease and may have long-term impacts on population levels of bighorn sheep. Population declines have also occurred in the apparent absence of contact with domestic sheep or goats. Such declines have been attributed to various factors including disease transmission from adjacent bighorn herds, high densities and related nutritional issues, human disturbance, loss of habitat, weather conditions, and infection with parasites such as lungworm or mites. Active desert bighorn sheep management is considered necessary to reduce risk of disease transmission and catastrophic die-offs of bighorn populations. 
The objective of this proposal is to protect the established Zion bighorn sheep population following the Utah Statewide Bighorn Sheep Management Plan and the Western Association of Fish and Wildlife Agencies (WAFWA) Wild Sheep Working Group recommendations. Most commonly, bighorn sheep population numbers are managed through hunting or using transplant efforts in order to reduce localized densities. Hunting is not a legislated purpose of the Park, therefore a trap and transfer process would be one potential management option. The frequency and number of bighorn captured typically varies between 20 and 100 sheep for each transplant effort, but would be variable and dependent on local conditions, herd demographics, and the agency level of concern about disease transmission. These bighorn would be transplanted to supplement an existing small herd or start a new population, but with the primary objective of protecting the source herd.
The park will prepare an Environmental Assessment (EA) in compliance with the National Environmental Policy Act (NEPA) to provide a decision-making framework that explores a reasonable range of alternatives to meet project objectives, evaluates potential issues and impacts to Park resources and values, and identifies mitigation measures to lessen the degree or extent of these impacts. 
The National Park Service encourages public participation during the NEPA process. The public has two opportunities to formally participate: during this initial public scoping period for development of the alternatives and during future public review of the EA. At this time, we invite you to help identify concerns and to express any ideas or comments regarding bighorn sheep management in Zion National Park. 
Submit public scoping comments by March 19, 2014. 
We prefer to receive your comments by submitting them online to https://parkplanning.nps.gov/zion or mail them to: Superintendent, Attention: Bighorn Management EA, Zion National Park, Springdale, UT 84767, by the above date.
Last updated: February 24, 2015