Zion National Park BASE Jumper Recovered and Identified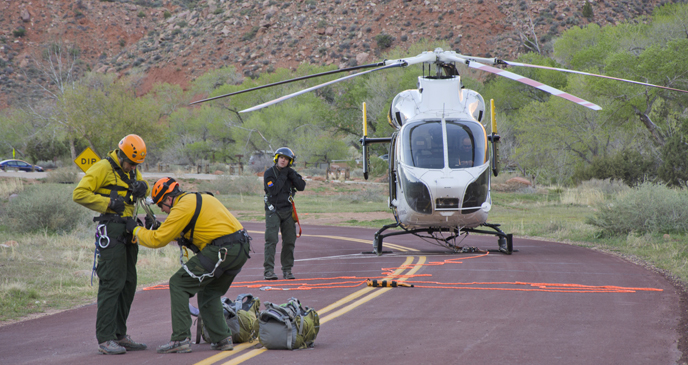 News Release Date:
March 25, 2014
Contact: Aly Baltrus, 435-772-0160
At approximately 11:00 am, March 25, 2014, a Search and Rescue (SAR) team consisting of members from Grand Canyon National Park, Zion National Park, and several volunteer climbers recovered a BASE jumper's body from the West Temple area. He was identified as 38-year-old Sean Leary from Sacramento, California.
Leary was last heard from on March 13. According to his family, he was planning on BASE jumping from the West Temple that evening and then was to join a group rock climbing in the park the next day. The climbing team never saw him. On Sunday, March 23, the family notified the park of the overdue BASE jumper and the National Park Service started to search. With the help of the Grand Canyon helicopter, Leary was located in an area called The Three Marys, approximately 300 feet below the ridge of the tallest peak. Harsh winds suspended all recovery efforts Sunday.
After spending Monday assessing options, planning the recovery, and closely monitoring the forecast, the combined SAR crew started the recovery at 7:00 am Tuesday. The recovery involved short-hauling two rangers to a ledge above Leary. They climbed down, began the accident investigation, and secured Leary for a long-line haul via helicopter off the peak.
Leary was an internationally known climber and BASE jumper. He was well respected within the climbing and BASE jumping community and many friends and family came to Zion National Park after hearing about the accident. Several of his experienced climbing friends were on standby to help move Leary to the top of the peak in case the helicopter had trouble reaching him. They also helped SAR rangers manage lines set up to reach Leary.
"It was obvious that Sean Leary was beloved by his family as well as the climbing and BASE jumping community. Our condolences go out to them," said Acting Superintendent Jim Milestone. "Recoveries like this one are hard on everyone, including our Search and Rescue team. Any time a park visitor dies, the National Park Service is gravely concerned."
BASE jumping is illegal at Zion National Park. "There are places within the United States that one can BASE jump, but not in Zion," Milestone explains. "There are many reasons for this, from resource protection, to visitor and employee safety, to Wilderness mandates. BASE jumping is not congruent with the founding purpose of this park."
Last updated: February 24, 2015