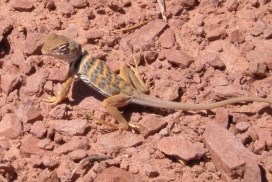 Print out your copy of the Zion Reptile and Amphibian list
Requires free Adobe Reader
How would you like to bask in the desert sun beneath towering sandstone cliffs alongside a lush, riparian waterway? You won't be alone. Joining you will be a myriad of reptiles; ectotherms that soak up the sun to warm up internally and get moving. While in Zion National Park, you may have the opportunity to spot one of 16 species of lizards lazing in the sun or witness the sly moves of one of 13 slithering snakes. If you are very lucky, you may even spot the slow, persistent movements of the federally protected desert tortoise.
Zion is home to a variety of interesting lizard species, each with unique adaptations and curious behavior. Look for smaller lizards alongside Zion's trails early in the morning. The smaller the lizard's surface area, the quicker the body can warm up to move quickly. Larger lizards will begin to bask later in the morning once the sun's rays are more powerful. This prevents large lizards from becoming prey before they have enough energy to safely scurry away from predators.
The plateau lizard is a small,with distinctive patches of blue along its belly. This is Zion's most common lizard, often seen along the trails in Zion Canyon. Also small in stature is the short-horned lizard. This lizard has distinctive horns, or spines, which are modified epidermal scales. These horns make the lizard very unappetizing to predators, with the exception of the roadrunner. These curious birds orient the lizard's horns away from their vital organs during swallowing to ensure safe digestion.
A large lizard commonly seen in Zion Canyon is the western whiptail. Look for its long lean physique and rusty orange coloration on the sides of its back. Look quick though, this lengthy lizard can sprint up to 18 miles per hour. Also large and surprisingly quick is the carnivorous Great Basin collared lizard. Known to stand up and run on its hind legs, this 14-inch lizard preys upon smaller lizards, snakes, and insects. Look for the collared lizard in the lower canyon and along the Watchman Trail.