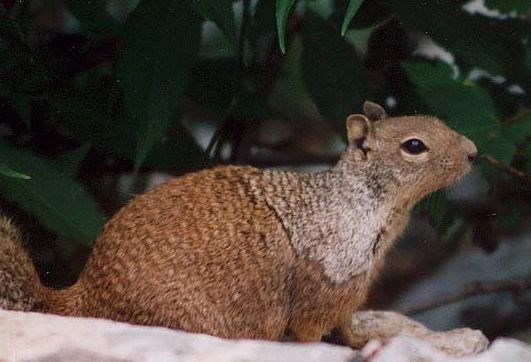 Print out your copy of the Zion Mammal list
PDF file. Requires free Adobe Reader

What do mule deer, bats and Zion visitors all have in common? They are all mammals! Mammals vary greatly in appearance, behavior, and required habitats, but all mammals share certain characteristics, that help distinguish them from other living animals. All mammals are warm-blooded; meaning they can maintain a constant internal body temperature, despite varying external temperatures. They also give birth to live young, and can produce milk to nourish them. Hair, or fur, helps to keep mammals warm and provides insulation.
In Zion National Park, you may have the opportunity to see at least one or two furry creatures wandering along the river or scampering across slickrock. Zion is home to 68 species of mammal, ranging from the petite kangaroo rat to the sturdy, surefooted bighorn sheep. The most frequent mammal sightings are mule deer, foxes, bats, bighorn sheep, and rock squirrels.
The key to a good sighting is to know when and where to look. By day, mule deer and rock squirrels meander about on the canyon floor.
Rock squirrels prefer rocky terrain. They love canyon walls and riparian waterways. Look for rock squirrels frolicking and cooling off in sand baths along the Riverside Walk. Squirrels in Zion are fortunate to have a constant source of water, but even when they are away from a water source, they prove themselves to be hardy survivors. Rock squirrels have been observed in the desert surviving for up to one hundred days without water.