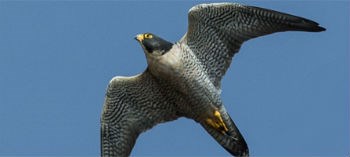 Falco peregrinus
The fastest animal in the world, the peregrine falcon can be seen soaring among the scarlet cliffs of Zion. Once on the brink of extinction, the peregrine falcon is again one of the most widely-distributed birds in the world thanks to conservation efforts.
The word peregrine originates from the Latin, peregrinus, meaning "to travel abroad" or "wander." This is in reference to the long migrations of some subspecies that nest in the tundra, migrating some 2500 km (1553 miles) away. You can find this fast flier on every continent except Antarctica.
These aerial killers catch their prey, usually other birds, on the wing. The peregrine initiates its attack from high on a cliff while watching for prey. As it "stoops," or dives, headfirst into the air, it begins to fold its sharply-shaped wings tightly toward its body, forming a diamond or bullet shape to reduce the drag created by the wings. Constant travel speed for this bird ranges between 25-34 mph. However, this diving daredevil can reach speeds of 100 to 200 mph while in a stoop, in as quickly as 8 seconds!