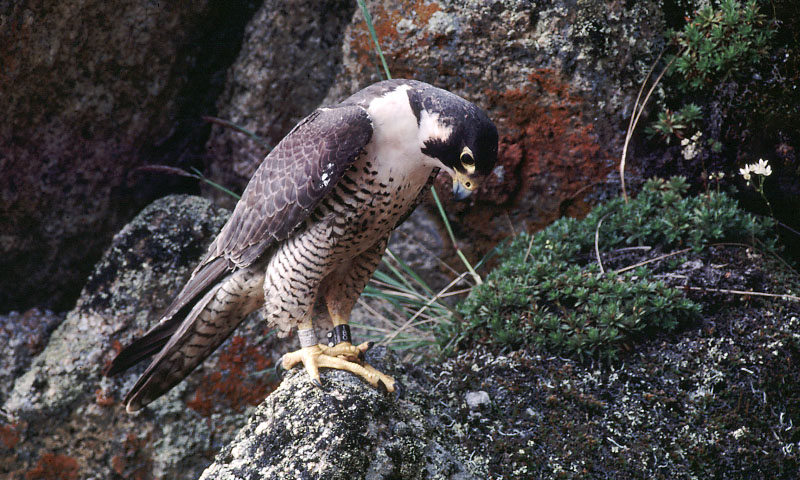 News Release Date:
March 6, 2012
Contact: Pat Sanders, 907-547-2233
Contact: Melanie Flamme, 907-455-0627
As spring approaches, peregrine falcons will begin their return to nesting sites along the Upper Yukon River, an annual migration of a once-endangered population whose numbers and breeding success rates are stabilizing.
A 35-year monitoring program focused on Yukon-Charley Rivers National Preserve, which makes up much of the falcons' prime nesting habitat, has found 53 pairs of birds for the past three years. Since 2005, the breeding success rate in the study area has settled to between 60% and 70%, another sign of a stabilizing population.
The peregrine falcon is a medium-size raptor that preys almost entirely on other birds. In Alaska, their breeding grounds are primarily on cliffs along major rivers. They winter as far south as Brazil and Argentina, then head north with breeding grounds stretching from Mexico to northern Alaska. Falcons usually arrive in Interior Alaska in late April and initiate courtship almost immediately. Egg laying begins in early May, and fledging occurs in late July or early August.
In an annual report on falcon monitoring, researchers Skip Ambrose and Chris Florian spent 23 days in the study area in 2011 locating and mapping occupied nests and determining breeding success.
Peregrines have been well studied for more than 40 years. The birds were classified as an endangered species in 1973, having suffered several decades of poor breeding due to the effects of DDT and other pesticides. After significant restrictions on the use of the pesticide in the early 1970s, the peregrine falcon population began a slow recovery. In the Yukon-Charley Rivers area, the population has grown nearly five-fold since hitting a low of 11 pairs in 1973.
The American peregrine falcon population breeding within the upper Yukon River valley is believed to be one of the best studied populations in North America. One important aspect of the American peregrine falcon population in Yukon-Charley Rivers National Preserve is that this population has never been manipulated and its recovery has been completely natural and well-studied.
"Continued monitoring is necessary to understand the natural variation of a 'healthy' peregrine falcon population, which will allow detection of population changes that are beyond normal limits of annual variation," Ambrose and Florian noted in their report.
The annual report is available on the Yukon-Charley Rivers National Preserve web site at https://home.nps.gov/yuch/naturescience/peregrine-falcons.htm
The 2.5 million acre unit of the National Park System was established in 1980, in part to protect habitat for fish and wildlife including peregrine falcons and other raptors.