Community Based Archaeology in the Coal Creek National Historic District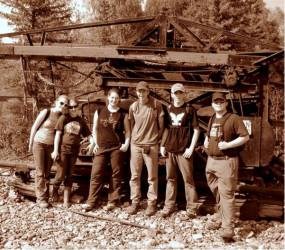 For two weeks during the Summers of 2009 and 2010, two separate groups of six high school students traded television, texting, and a teenager's "normal" life for dirty, often tedious work, a dining hall, bunkhouse quarters and the glamour of mosquito headnets in order to join an inter-agency research team conducting archaeological excavations at a Historic era site in Yukon-Charley Rivers National Preserve.
ASRA Archaeology
The Alaska Summer Research Academy (ASRA) is an immersion based "science camp" designed to introduce high school students to a discipline of their choice by connecting them with faculty, staff, graduate students and industry professionals in that field. The individual courses or "modules" are typically activity-based rather than lecture oriented and are designed to be experiential, hands-on activities and projects meant to promote curiosity and creative thinking. Successful completion of a module earns each student one college credit.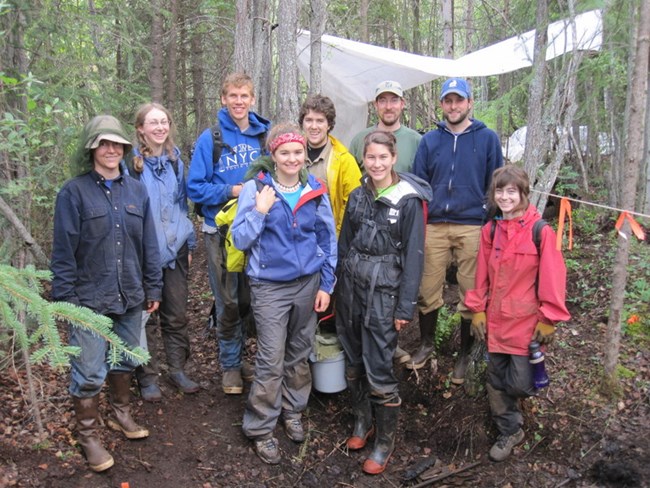 Under the direction of Chris Houlette, Museum Curator for Yukon-Charley, with assistance from Jim Whitney, Archaeology Collections Manager at the University of Alaska Museum, Robin Mills, Historical Archaeologist from the AK-BLM Eastern Interior Field Office and Dael Devenport NPS Archaeologist, the students were taught the basic principles of historic and archaeological research. Instruction was designed to involve the students in an active research project investigating the history of the people who lived and worked in the Coal Creek Historic Mining District in Yukon-Charley.
The Snare Creek Historical Archaeology Project
The main focus of the excavations was the Juneby-Paul-David Cabin site, a series of cabins and associated features initially constructed and occupied during the mid 1940s by three Han Athabascan families from Eagle Village, Alaska. Willie Juneby, Susie Paul, and Harry David worked for the mining company operating the dredge on Coal Creek and lived with their families at Snare Creek. Today, the site consists of the remains of two cabins as well as an associated cache, shed, outhouse and trash scatter.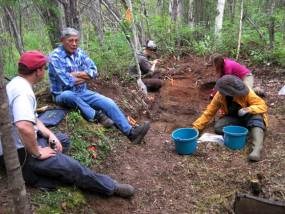 The ASRA team chose to concentrate their investigations on a single section of the complex; the remains of the Juneby cabin, which burned to the ground in 1950. Thankfully, the family was away at the time and no one was injured. Isaac Juneby, son of Willie Juneby, a one time NPS interpretive ranger from Eagle Village who lived in the family cabin as a child. He joined the investigation and provided valuable information on what life was like at the site. NPS historian Chris Allan spent many hours conducting and recording interviews with Mr. Juneby, exploring his unique perspective on the history of the camp.
Thousands of historic period artifacts were recovered including both structural and domestic materials. Cabin remains such as nails and shards of broken window glass were numerous and testified to the near total destruction of the cabin. Also identified were the rusted remains of a collapsible bed frame, a wood fired cook stove and a double bit axe head.As well a fascinating array of domestic items were discovered including, fragments of imported ceramics, faunal remains suggesting a mix of both commercially acquired meat and hunted game, and a wealth of personal items such as various clothing hardware elements (snaps, zippers, buckles etc.), a collection of seed beads and partial beadwork decorations, pieces of a guitar, and numerous toys, attesting to the presence of children.
Last updated: April 14, 2015