Wilderness Conditions Update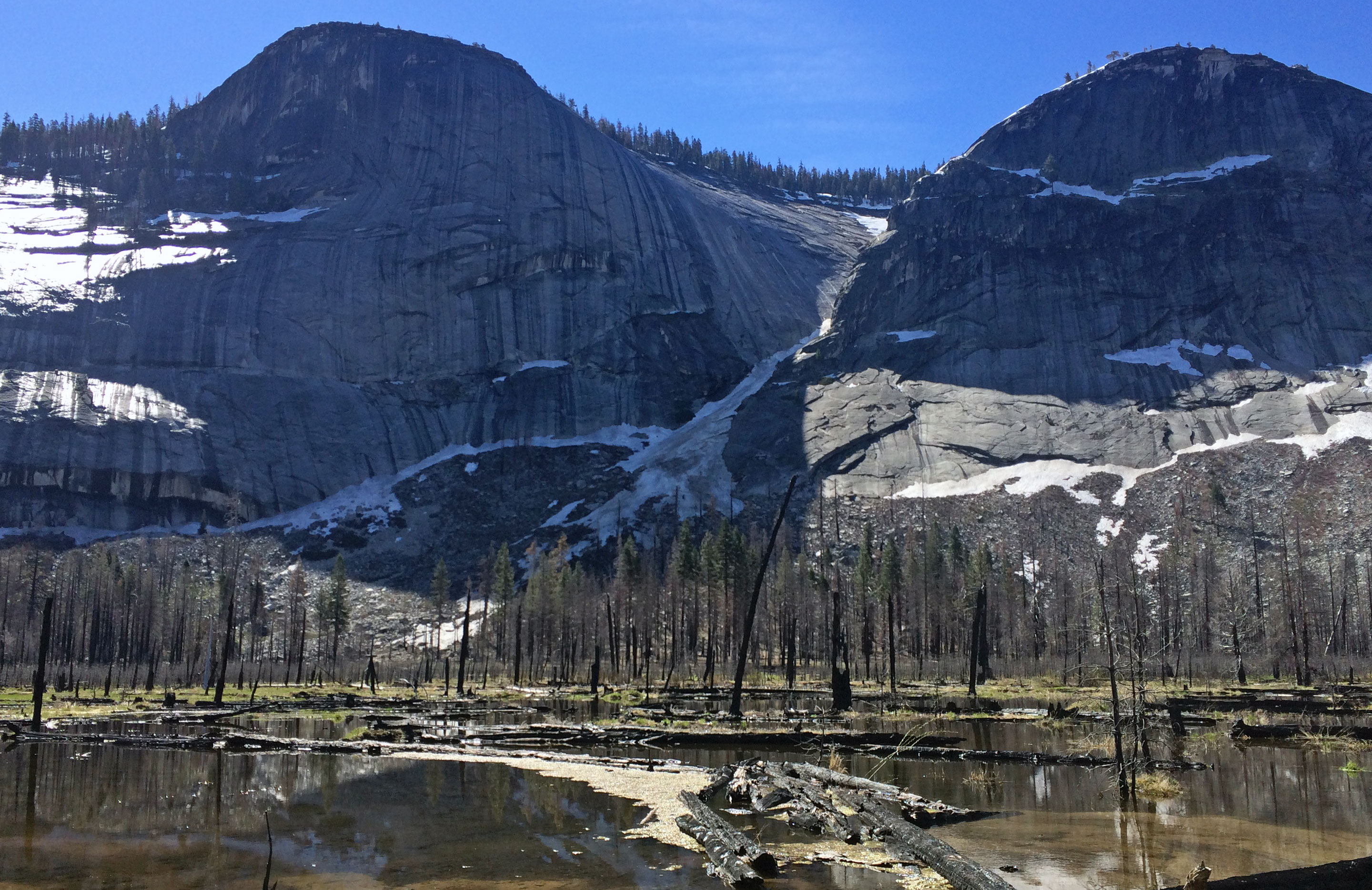 May 19, 2017
General Conditions
After one of the wettest winters in Yosemite history, spring has arrived with warming temperatures and a host of challenges for backpackers in the wilderness. Despite rising water levels from spring runoff, 4-7 ft of snow persists at 7,500 ft with 10 ft or more at higher elevations. The snowline has crept up to roughly 7,000 ft but is still widely variable depending on aspect and topography. With such abundance, snow will linger well into the summer months, especially at higher elevations.

Crews finished plowing the Glacier Point Road and it opened for public use on May 11. Snow pack remains high in this region of the park. Hikers leaving from any trailheads along Glacier Point Road should be prepared to travel 90-100% of the time over several feet of snow. Navigation skills are critical for hikers moving through these densely forested areas.

Increasing water levels from spring run-off makes many streams and creeks difficult or impossible to cross. This is further complicated by steep snow banks that persist on either side. With the heavy rain and snow this winter, many trails have more erosion damage than usual. Trails may have also experienced mudslides, rockfalls, and/or multiple downed trees. Exercise caution when traveling on trails and turn around if you do not feel comfortable going forward.

Winter travel techniques and skills are a must for backpackers in Yosemite over the next couple months. Be prepared for near-freezing temperatures at night and variable temperatures during the day. Except for lower elevations and exposed areas, plan to camp in the snow. Storms can come at any time and may bring heavy snowfall, making travel and navigation very difficult. Always be sure to check a current weather forecast before you start your trip and be prepared for a multitude of conditions.


Summer Outlook: Yosemite has received the most precipitation in its recorded history his winter (water year from Oct-Sept). However, the overall 2017 snowpack is only the 4th wettest on record in Yosemite and 176% of average. How can this be? Many of the storms this winter were relatively warm, meaning that while snow fell at the higher elevations it rained at lower elevations where it often times snowed in the past. This bears out in the snowpack with an uneven distribution of snow. The higher elevations, approximately 8,500 ft and above, are about 215% of average and are the highest on record, whereas the lower elevations are only 150% of average. Hence, the overall average of the snowpack is not a record.

It bears repeating, don't let the overall snowpack number average fool you. At elevations at 8,500 ft and above, this year is the highest on record! This Wilderness ranger echoes what the park hydrologist says, that it would be 'overly optimistic' to think about hiking easily in the higher elevations until August.

The recent May 1 snow surveys further reiterated this trend where most of the snow courses 8,500 ft and above were 215% or more of average. The two highest elevation courses are the also the highest percentage at 230%. The percentage of snow for the time of year stayed consistent or even increased a little compared to the April 1 snow survey, meaning there was no significant melt in April.

Spring weather will determine the amount of snow on the trails in July and August. A warm & dry spring will promote snowmelt whereas a cool & wet spring will diminish snowmelt. The chances of a warm, normal or cold spring are roughly equal, meaning a 33% chance for each. To make a significant change in the snowpack, the spring will have be particularly warm and sunny, making it even less likely. Spring weather can be highly variable and with any weather, it is unknown what it will be in the coming months.

So far spring has been cooler and wetter than normal, with April having above normal precipitation and below normal temperatures. Despite a few warm days so far, May has been cool with some rain and snow.

Spring melt has begun in earnest, but there is still a lot of snow at higher elevations. Generally, snow melts at a maximum of 1 inch of SWE (Snow water equivalent) per day. During the warmest & sunniest days around the solstice, when solar radiation is at its peak, there can be up to 2 inches of SWE melt per day. Cool or overcast days decrease the snowmelt rate and days with rain/snow increase the snow water amount. For reference, currently some of the automated snow sensors at higher elevations in Yosemite have 80+ inches of SWE.

For summer trips, be prepared for a different than usual hiking experience. Expect snow on the trails at elevations above 8,000 ft well into July and even August. There will likely be high creek crossings, snow on the trail and you may have to alter your route significantly depending on the conditions. Creek crossings in particular maybe challenging because if the creek is too high there are few options to cross and you may have to turn around.

Ski conditions are listed on the Tuolumne Meadows Ski Conditions page.
Current Closures
Kerrick Meadow is closed each year to padstock grazing to reduce impacts to the federally-threatened Yosemite toad and endangered Sierra Nevada yellow-legged frog. The area will temporarily reopen to grazing, tentatively on July 25, 2016. (Check back for possible date changes.)
Trails in Yosemite may be closed when there are hidden hazards or are impassable due to rock fall, snow, ice, or fire. Open trails are not necessarily free of hazards. By entering the wilderness, you are assuming responsibility for your safety and must use good judgment.
Wilderness Permits
Free wilderness permits are required for overnight stays in the Yosemite Wilderness. Permits can be obtained at the
following locations
.

Wilderness Permit Reservations
The reservation office is open Monday through Friday, 8:30 to 4:30. Reservations are available up to
24 (168 Days)
weeks ahead of your entry date.

Yosemite Valley Wilderness Center
Open daily from 8 am to 5 pm. Wilderness permits available, maps for sale and bear canisters for rent.

Tuolumne Meadows Wilderness Center
Closed for the season and will reopen June 2017 (when Tioga Road reopens). Self-registration permits available on the front porch of the wilderness center are valid only for the Tioga Road trailheads.

Big Oak Flat Information Station
Open daily from 8 am to 5 pm. Wilderness permits available, maps for sale and bear canisters for rent.

Wawona Visitor Center at Hill's Studio
Open daily from 8:30 am to 5 pm. Wilderness permits available, maps for sale and bear canisters for rent.

Hetch Hetchy Entrance Station
Hetch Hetchy road hours are 7 am to 9 pm. Permits and bear canisters may only be obtained during open hours. There is no access to Hetch Hetchy beyond open hours (overnight parking is permitted in the overnight parking lot near the backpackers' campground).
Food Storage
Bear resistant
food canisters
are required in the Yosemite Wilderness. Use a canister to store all food or scented items when left unattended. Remember that anything used in, on, or around the body is considered a food item. Whenever food or scented items are out, please keep them within arm's reach, even while day hiking.
If a bear approaches your camp, act immediately to scare it away. Maintain a safe distance while making as much noise as possible. Throw small stones or pines cones toward the bear, being careful not to strike the bear on the head. If the bear returns, repeat. Do not attempt to retrieve food or gear from a bear until it abandons the items.