Wilderness Conditions Update
June 17, 2019
General Conditions
The spring in Yosemite was cold, wet and snowy with many late winter storms, delaying the melt of a large winter snowpack. With summer around the corner, the weather has turned to the better. These long days and sunny skies, as well as warmer temperatures, have dramatically increased spring run-off, making hazardous creek crossings a primary concern. Snowpack is persistent throughout Yosemite's high country.

Water is flowing abundantly. Creeks and streams are at high flow and could be at or near flood stage. Be aware of how to best cross an unbridged creek and make the appropriate choice for all members of your group. Creeks and streams that were passable in the morning may have risen during the day and may not be passable in the afternoon or from previous days. Valid methods include waiting for the creek to lower, for hours or even the next day, or picking a different route. The creek will still be there next year. In 2017, a comparable snow pack year, there was 1 fatality and numerous close calls while crossing creeks in Yosemite.

The snowline is still roughly around 8,500 feet, but will vary widely due to location and aspect, with sunny south facing slopes having higher snowlines than north facing or shaded areas. Expect multiple feet of snow approaching 8,500 feet and deeper snow as you move higher up the landscape. Snow free trails will be wet and muddy in many sections, so please stay on trails to prevent resource damage by creating multiple trails. Travel and navigation over snow will typically be the most challenging part of the hike. Snow cover completely obscures all traces of the trail so strong cross-country navigation skills are a must. Footprints of other hikers often lead in the wrong direction, so beware following them.

Cool nights leave the remaining snowpack hard or even slick in the mornings or presistently shaded areas. Then the long, warm and sunny days turn the snow to a soft sloppy mess by mid-morning. Post-holing is to be expected, especially in the afternoon. With continued snowmelt, beware of hollow areas beneath the snow, particularly if you hear running water.

Weather conditions can vary wildly day to day and even from morning to night. Be prepared for cold or freezing temperatures at night, warm, dry weather during the day and everything in between. Afternoon thunderstorms can happen any day throughout summer. Always be sure to check a current weather forecast before you start your trip and be prepared for a multitude of conditions.

Summer Outlook: We have been getting many questions about what tools or equipment hikers should bring, particularly regarding ice axes and crampons. Rather than what hikers should bring, the question should be what skills and knowledge do you have as a hiker. Without the proper skills or knowledge, additional tools or equipment are less effective, or not effective at all. Knowledge and experience will indicate what tools and equipment you should bring based on the conditions. If you have never used an ice ax before, sliding down a steep & icy snow slope with a full backpack on is an inopportune time to learn how to use one. Perhaps, if it seems necessary to bring additional equipment that you haven't used before, it is prudent to alter your trip for a later date or different location. As for any Wilderness adventure, it is for you to decide what equipment to bring.

For summer trips, be prepared for a different than usual hiking experience. Expect snow on the trails at elevations above 9,000 ft well into July and even August. There will likely be high creek crossings, snow on the trail and you may have to alter your route significantly depending on the conditions. Creek crossings in particular may be challenging. If the creek is too high there may be few options to cross and you may have to turn around. An area of particular concern is Wapama Falls along the trail to Rancheria Falls in the Hetch Hetchy area, which may be impassable at high flows. Make your plans accordingly and practice wilderness safety basics.

See a map of trails that have been cleared of downed trees for the season. Please note that though most tree failures occur during the stormy winter
months, trees can fail at any time.
| Park Area | Trails, (landmarks included in description) | Trail Conditions |
| --- | --- | --- |
| North and South Rim of Yosemite Valley | Lehamite Creek, North Dome, Dewey Point, McGurk Meadow | Water is plentiful throughout, even in the smallest streams. Any mapped water source can be relied upon. Expect patchy snow still in some areas and trails through meadow areas to be flooded and muddy. Please stay on trails to prevent damage to resources. Yosemite Creek is flowing full and fast. Caution is advised for all creek crossings. The camping closure between the top of the Snow Creek switchbacks and the Snow Creek footbridge is still in effect: there is no camping allowed in that area, and camping along Snow Creek is discouraged. There is a lot of bear activity even beyond the Snow Creek footbridge, with canisters and even backpacks getitng lost or damaged. Hiking past Snow Creek and finding campsites west of Indian Ridge is strongly advised. |
| Glacier Point Rd | Ostrander Lake, Illilouette Creek | Illilouette Creek is flowing full and swift, and will likely be impassable. Mono Meadow trail is clear, but very wet through the Meadows. Expect almost total snow coverage on trails above 8,500 feet. Expect lakes at higher elevations to be frozen or only beginning to melt out around outlets. Limited snow free camping areas at Ostrander Lake |
| Wawona Area | Chinualna Creek, Buena Vista Loop | Trail to Chilnualna Falls is clear. Crossing Chilnualna Creek may prove hazardous at best and impassable at worst. Exercise caution and consider time of day for creek crossings. The Buena Vista Loop is still significantly snow-covered at the higher elevations. |
| Hetch Hetchy | Beehive Meadows, Laurel Lake, Jack Main Canyon, Wilma Lake. | Lots of water throughout the area and many hazardous water crossings. Many sections of trail are still flooded and muddy. Wapama Falls is at high flow and crossing the bridges may not be possible, if water is flowing onto the bridges. Falls Creek at the Lake Vernon outlet maybe flowing around the bridge, depending on flow, and hazardous to cross. Jack Main Canyon has numerous wet and flooded sections. Your boots will get wet. |
| JMT (Happy Isles to Tuolumne) | JMT (Happy Isles to Tuolumne) | Bears have been very active along the JMT corridor. Please store food (and toiletries!) properly to prevent them from obtaining it. Store bear canisters outside backpacks to avoid property damage and never leave food unsecured. Full snow coverage on the JMT begins around Sunrise Mountain and is persistent except on some exposed rocky areas and in open meadows where it has melted. The meadows are saturated or flooded; always stay on the trail to protect these sensitive ecosystems. Sunrise HSC is not opening this year and there will be no potable water; plan to filter from the surrounding streams. |
Current Closures
Current trail closures are listed on the current conditions page.

Kerrick Meadow is closed each year to padstock grazing to reduce impacts to the federally-threatened Yosemite toad and endangered Sierra Nevada yellow-legged frog. The area will temporarily reopen to grazing on August 15, 2019.

Trails in Yosemite may be closed when there are hidden hazards or are impassable due to rock fall, snow, ice, or fire. Open trails are not necessarily free of hazards. By entering the wilderness, you are assuming responsibility for your safety and must use good judgment.
Wilderness Permits
Free wilderness permits are required for overnight stays in the Yosemite Wilderness. Permits can be obtained at the following locations.
Wilderness Permit Reservations
Open Monday through Friday, 8:30 am to 4:30 pm. Reservations are available up to 24 (168 Days) weeks ahead of your entry date.
Yosemite Valley Wilderness Center
Open daily from 8 am to 5 pm. Wilderness permits available, maps for sale, and bear canisters for rent.
Tuolumne Meadows Wilderness Center
Closed for the season. Will reopen spring 2019. Wilderness permits for the Tuolumne Meadows area are available on the porch (self-registration). Be prepared with your own bear canister.
Big Oak Flat Information Station
Open daily from 8 am to 5 pm. Wilderness permits available, maps for sale, and bear canisters for rent.
Wawona Visitor Center at Hill's Studio
Open daily from 8:30 am to 5 pm. Wilderness permits available, maps for sale, and bear canisters for rent.
Hetch Hetchy Entrance Station
Open for permits and bear canisters from 8 am to 5 pm. Hetchy Road is open 7 am to 9 pm. There is no access to Hetch Hetchy beyond road open hours (overnight parking is permitted in the overnight parking lot near the backpackers' campground).
Food Storage
Bear resistant food canisters are required in the Yosemite Wilderness. Use a canister to store all food or scented items when left unattended. Remember that anything used in, on, or around the body is considered a food item. Whenever food or scented items are out, please keep them within arm's reach, even while day hiking.

If a bear approaches your camp, act immediately to scare it away. Maintain a safe distance while making as much noise as possible. Throw small stones or pines cones toward the bear, being careful not to strike the bear on the head. If the bear returns, repeat. Do not attempt to retrieve food or gear from a bear until it abandons the items.
Trails Cleared Map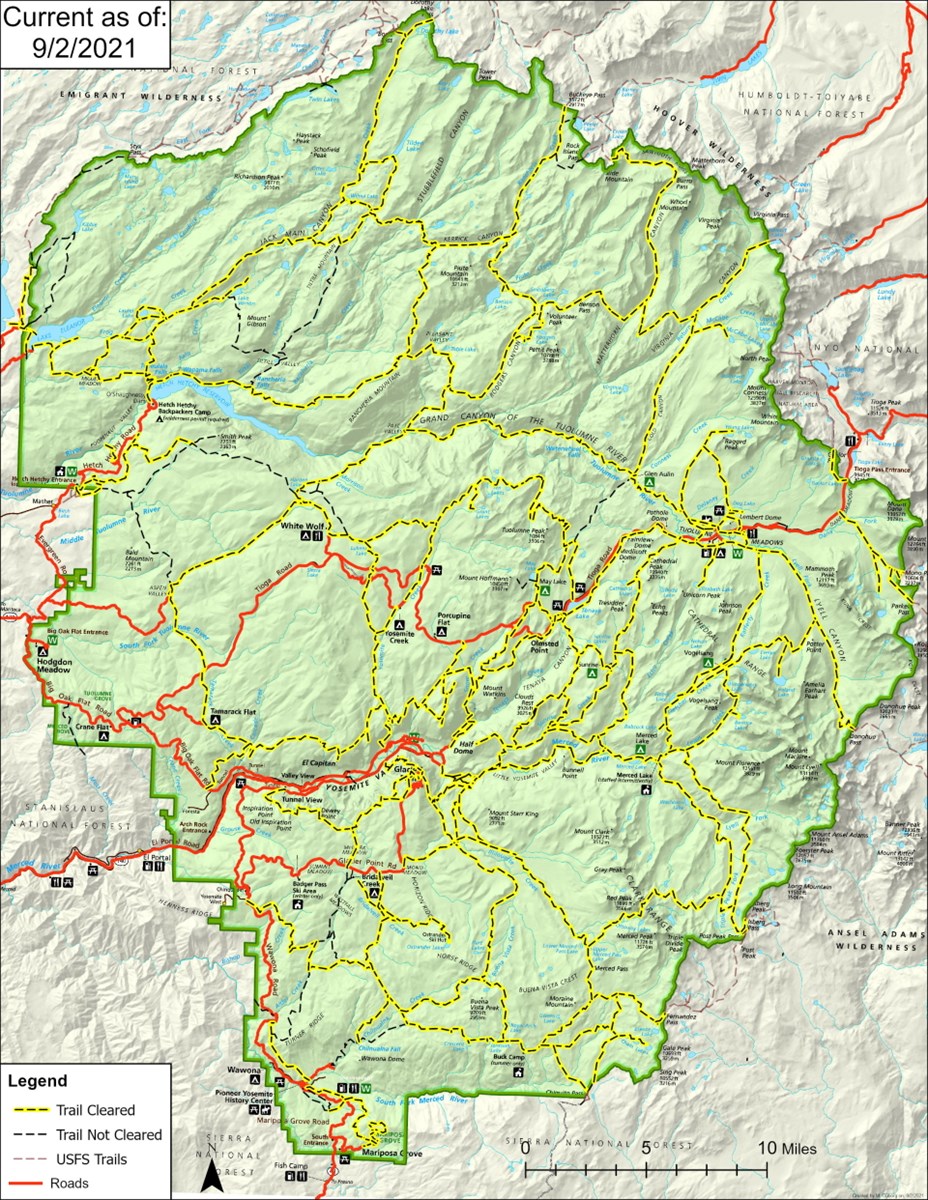 Last updated: June 17, 2019