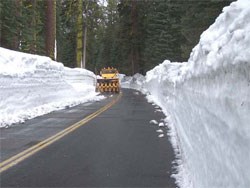 Clearing of the Tioga Road normally begins on or about April 15 each year and usually takes between one and two months.
Predicting when these roads will open is not possible, even in late spring
, because April and May weather significantly affects plowing progress. (April 1 snowpack (water content of the snowpack as a percent of average) for the Tuolumne drainage is listed as a reference.)

View Tioga Road and Glacier Point Road plowing updates (beginning around April 15 each year).