Snow Creek Cabin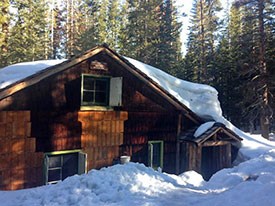 Snow Creek Cabin History
In the 1920s, Yosemite Park and Curry Company began offering a variety of winter activities in order to increase winter visitation. The company planned to set up a system of ski huts—similar to those found in the Alps—to support ski-mountaineering. The cabin itself, built in 1929, was modeled after a Swiss mountain chalet.
Downhill skiing at Badger Pass Ski Area eclipsed ski touring in popularity and the cabin was closed and abandoned in 1934. Visitors started using the cabin again in the 1970s, but the cabin closed again in 2000 because of its poor condition. Park historic preservation crews restored the cabin in 2006 and it has been open to winter use since then.
Permits and Quota
Due to increased popularity of the cabin, a quota (six people per night) is now in effect. This limit on the number of people staying at the cabin provides for visitor safety and preserves natural, cultural, and wilderness values.
You must go to the Valley Visitor Center to pick up a wilderness permit (if available) and current combination for the cabin's lock. The visitor center is open 9 am to 5 pm daily. Permits are available one day in advance of your trip. Reservations are not available.
The cabin is generally open during the same time as Badger Pass Ski Area, which is typically mid-December through March (as long as there is enough snow for skiing). The cabin is closed at other times of the year.
What to Bring and Expect
If you're visiting the cabin, be prepared for a self-reliant winter wilderness experience. Bring everything you need for the night with you; the cabin only has a wood stove (with limited firewood) for warming (not cooking).
The cabin does not have any kitchen supplies. Bring your own pots, pans, utensils, and stove with fuel for cooking and melting snow for water, pots, pans, and other utensils. The cabin does not have lanterns or cooking stoves.
Additionally, be prepared for winter travel and weather. (View weather forecast for the Snow Creek area.)
Yosemite is a natural environment with wild animals, including rodents. Be aware of safety information relating to visiting Yosemite, ranging from snow safety to bear awareness and hantavirus awareness. Be sure to boil or filter water.
Proper Food Storage
You are required to properly store your food in all areas of Yosemite. At the cabin, be sure to store food in a rodent-proof or bear-resistant container.
Getting There
Getting to the Snow Creek Cabin in winter can be difficult. Be prepared for a seven-mile (11 km) one-way trip with 4,000 feet (1,200 m) of elevation gain, much of it covered with snow, necessitating skis or snowshoes. You'll need expert navigational skills: there is no marked trail to the cabin. Even if you plan on traveling during a sunny day, you must be prepared to navigate in stormy weather and/or at night using a map and compass because weather can change quickly and/or it may take you longer than expected to reach the cabin.
The cabin itself can be difficult to locate, even by those who have been there before. It's best to go with someone who has been there before.
Last updated: September 27, 2022