Pets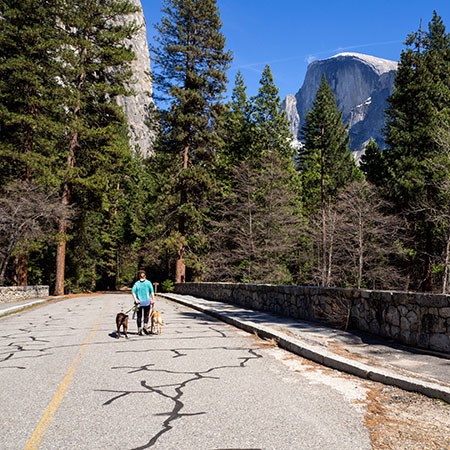 If you bring your pet to Yosemite, please protect your pet, other people, and park wildlife by abiding by these regulations:
Where Pets Are Allowed
In developed areas

On fully paved roads, sidewalks, and bicycle paths (except when signed as not allowing pets)

In all campgrounds except walk-in campgrounds (e.g., Camp 4) and in group campsites
Additionally,
pets must be restrained on a leash not more than six feet long or otherwise physically restrained

leashed pets may not be left unattended

for the courtesy of other visitors, human companions are responsible for cleaning up and depositing pet feces in trash receptacles

remember that pet food is also bear food: store pet food as if it were human food.

during the summer, high temperatures and elevation can affect your pet. Ensure that your pet has enough water, snacks, and paw protection from pavement.
Where Pets Are Not Allowed
On trails, including the trail to Vernal Fall, even if carried (however, pets are allowed on the Wawona Meadow Loop)

On unplowed roads covered in snow

In undeveloped and wilderness areas

In public buildings

On shuttle buses

In lodging areas

In all walk-in and group campgrounds/campsites, including Camp 4

In any other areas, as signed
There are no exceptions to these pet regulations for carried pets (in arms, carriers, strollers, backpacks, etc.) in the areas of the park where pets are not allowed.
These regulations protect both pets and wildlife from disease and each other. The National Park Service has prohibited pets on trails for many years. In particular, some pets chase wildlife, pollute water sources, and can become defensive and dangerous in unfamiliar surroundings. Wildlife can become aggressive in the presence of pets. Where pets are allowed, please give wildlife extra space if you have your pet with you. Remember the smaller creatures too! Keep your pets out of meadows. Nesting birds and rodents are hidden in meadow grasses. Pet owners have the burden to ensure their pet does not damage the park values for others in those areas where pets are allowed.
Keep Your Pet Safe
Wildlife can pose a threat to pets in Yosemite, both directly and indirectly. Keeping your pet attended and on a six-foot leash as well as fully vaccinated will reduce the chances of injury or disease. Rabies and distemper have been detected in park wildlife.
Service Animals
Dogs classified as service animals are individually trained to perform a specific task that assists a person with a disability. Service dogs are legally permitted anywhere that visitors can go. Learn more about requirements for service animals. Emotional support, therapy, and companion animals, as well as service animals in training, are not service animals and must abide by all pet regulations.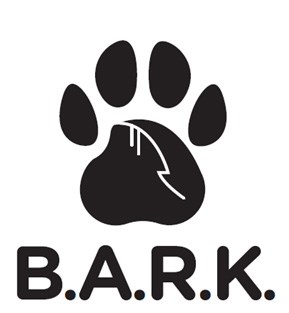 For many, pets are an important member of our families. If you are planning to bring a furry family member on your trip to Yosemite, make sure you are prepared and are following the B.A.R.K. Ranger code. The code helps protect you, your pet, and the park while you are here. If the activities you have planned for your visit do not allow for pets or are unsafe, consider leaving them at home.
Bag your pet's waste
Always leash your pet
Respect wildlife
Know where you can go
Demonstrate to other visitors that you know how to explore the park safely and help protect special places like Yosemite! Stop in any Yosemite visitor center to pick up your official B.A.R.K. Ranger pledge card to become an official B.A.R.K. Ranger.
Visit our keyboard shortcuts docs for details
Duration:

4 minutes, 33 seconds
Planning on visiting Yosemite with your dog? Ranger Nicole explains how to become a Yosemite B.A.R.K. Ranger and visit the park safely with your pet.
Harmful Algal Blooms
Harmful algal blooms (HABs) are blooms of algae or cyanobacteria that produce toxic compounds that threaten public health and the ecosystem. Threats from HABs may be more pronounced during periods with low or stagnant water flow, high-intensity sunlight, and elevated temperatures—conditions experienced during drought and which may be increasingly common in the future under climate change.
According to the CDC, people can become sick when exposed via skin contact through activities like swimming, breathing in tiny airborne droplets or mist that contain toxins, swallowing water that contains toxins, or eating food or supplements containing toxins. Symptoms depend on the cyanotoxin involved but include stomach pain, headache, vomiting, diarrhea, liver damage, and neurological symptoms such as muscle weakness or dizziness. Animals can become sick when they drink water containing algal or cyanobacterial toxins, swim or play in water containing algal or cyanobacterial toxins, eat or lick toxic algae or cyanobacteria that is in the water, on the shore, or on their fur. Animals can also become exposed through eating fish or other dead animals that contain algal or cyanobacterial toxins, and may experience illness symptoms such as excessive salivation, vomiting, fatigue, staggered walking, difficulty breathing, convulsions, liver failure, or death within hours or days of exposure.
The HAB Incidents Reports Map shows blooms in Yosemite and elsewhere in California.
Please report any large algae blooms. Include where the bloom was occurring, the date you saw it, and a general description.
--

There are a few additional (very obscure and unsigned) places where pets are allowed:
Wawona: Wawona Meadow Loop, Chowchilla Mountain Road, and Four Mile and Eleven Mile fire roads (but not the Four Mile Trail in Yosemite Valley).
Hodgdon Meadow: Carlon Road from the trailhead to Hodgdon Meadow and on the Old Big Oak Flat Road from Hodgdon Meadow to Tuolumne Grove parking lot.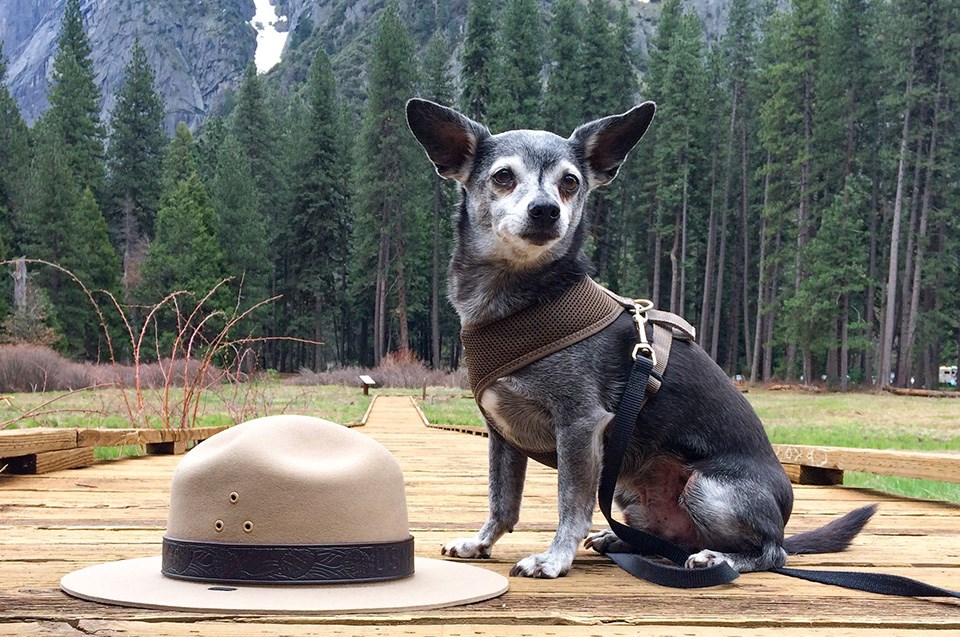 Last updated: May 28, 2023