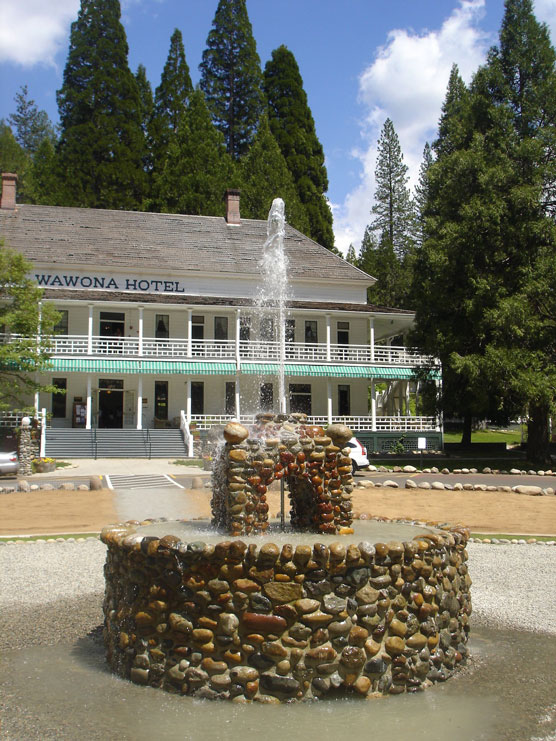 News Release Date:
August 24, 2011
Yosemite Conservancy, National Park Service and DNC Parks & Resorts at Yosemite, Inc. Partner to Rehabilitate Signature Fountains of the Wawona Hotel
With its white wooden buildings, verandas and sprawling green lawns, Yosemite's Wawona Hotel cradles its visitors in Victorian elegance. Two signature features of this National Landmark - the stone fountain in front of the hotel and a fountain at the entrance to the adjacent Thomas Hill Studio - have again sprung to life after major rehabilitation projects.
Yosemite Conservancy, the National Park Service, and DNC Parks & Resorts at Yosemite, Inc., which manages the hotel, partnered on the projects that needed $400,000 in rehabilitation work.
"Yosemite's natural wonders are complemented by historic places like the Wawona Hotel and its fountains," said Mike Tollefson, President, Yosemite Conservancy. "By connecting people to the park through its history, we are improving the visitor's experience today and encouraging people to preserve Yosemite for future generations."
The Wawona Hotel fountain sits prominently at the center of the hotel's formal circular drive. Remodeled over 90 years ago, it has long been in need of repair and has been covered for years by a protective tarp. A smaller fountain built in 1895 adds character to the entrance of the Thomas Hill Studio, which now serves as the Wawona Visitor Center. The work brought back each fountain's most recent appearance as well as updating plumbing to contemporary standards with water saving features.
 "The fountains are important features of the cultural landscape of the Wawona district. It's wonderful to see that they've been given new life so that visitors can enjoy part of Yosemite's early history," stated Don Neubacher, Yosemite National Park Superintendent.  
The Wawona Hotel, opened in 1879 and designated as a National Historic Landmark, is the largest existing Victorian hotel complex within the boundaries of a national park. Today, the Wawona Visitor Center at the Thomas Hill Studio provides information, wilderness permits, books and opportunities to learn more about Hill's work. Built in 1883, it has been an artist's studio and showroom, a dance hall, and even an ice cream parlor.
About Yosemite Conservancy
Yosemite Conservancy is the only philanthropic organization dedicated exclusively to the protection and preservation of Yosemite National Park and enhancement of the visitor experience. The Conservancy works to restore trails, protect wildlife through scientific research and habitat restoration, and offers outdoor programs that provide visitors with unique ways to connect with the park. It has funded over 300 projects through $60 million in grants in areas including trail and habitat restoration, wildlife protection, education, volunteering, and the production of award winning books and DVDs. Learn more at
www.yosemiteconservancy.org
or call 1-800-469-7275.