Park Ranger Sharon Miyako Receives Prestigious Award at Yosemite National Park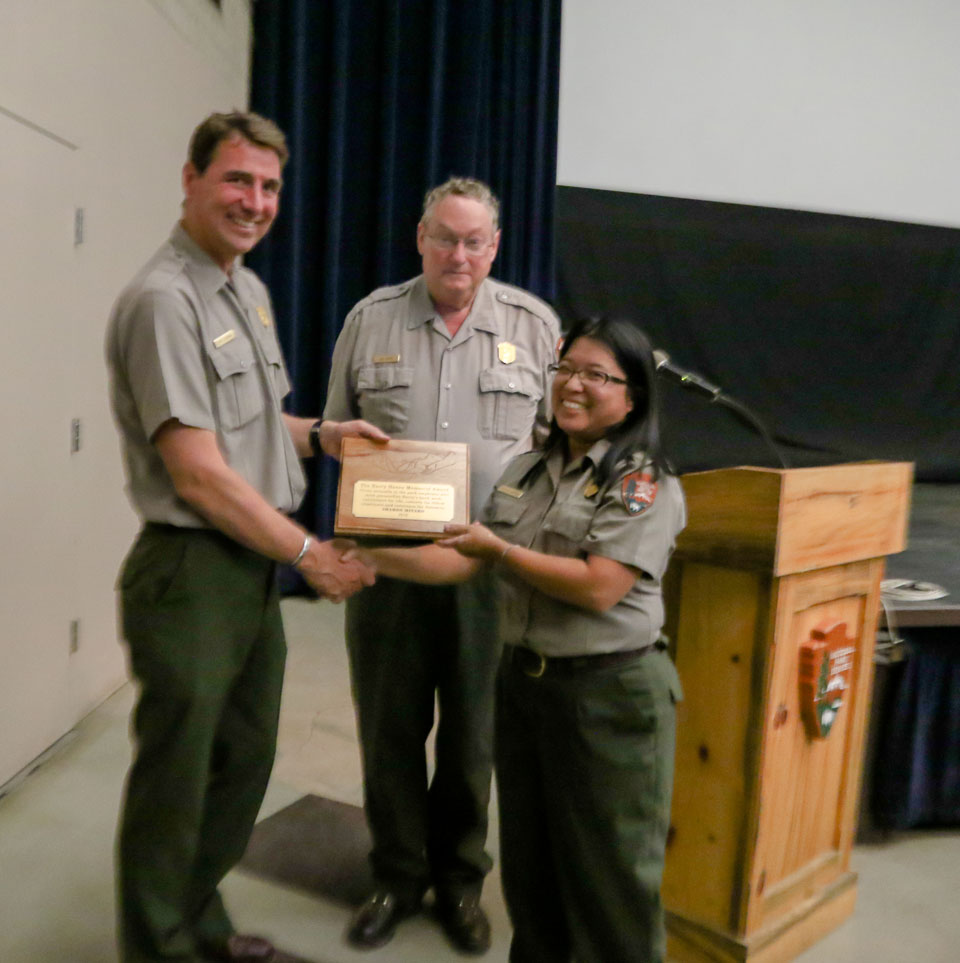 News Release Date:
June 29, 2017
Barry Hance Memorial Award is Park's Highest Honor
Yosemite National Park is proud to announce that Park Ranger Sharon Miyako is the recipient of the 2016 Barry Hance Memorial Award. This ceremony was attended by approximately 300 people, including several past Barry Hance Award recipients.  
The Barry Hance Memorial Award is a peer-nominated award that is named in honor of Barry Hance, a long-time employee of Yosemite National Park who died in an avalanche while plowing the Tioga Road in 1995. Recipients of this prestigious award are employees who exemplify the qualities and attributes of Barry Hance. These include team work, a positive attitude, concern for the public and fellow employees, public service, and a deep love for Yosemite National Park.  
Sharon Miyako exemplifies the qualities of the Barry Hance Memorial Award. According to the Rangers who nominated her, "Sharon has an eternal positive attitude and a heart of gold. She listens to concerns and will bend over backwards to accommodate the needs of others whether they are her staff, her supervisors, community members or visitors."    
"Receiving the Barry Hance Award is a humbling experience," stated Sharon Miyako. "I'm thankful that I've had the chance to learn in Yosemite, from the huge variety of employees we have. Having worked with and knowing many of the previous winners, I'm in awe that I am able to be a part of that special group. It just adds to the privilege of being able to work in Yosemite year after year, and to be a piece of this place."   
Sharon Miyako began her career in Yosemite National Park as a volunteer during the 2006 winter season. She returned to Yosemite Valley as a seasonal Park Ranger working for the Division of Interpretation from 2007-2009. In 2009, she became a year-round employee of Yosemite National Park. For the past several years, Sharon has served as a mentor and is currently a Supervisory Park Ranger. "There are two best parts of my job," stated Sharon Miyako, "helping seasonal interpreters grow, channel their passion, and figure out what they love to do....and helping visitors fall in love with Yosemite. It's an amazing privilege."  
Last updated: June 29, 2017