Yosemite National Park to Reopen Mirror Lake Loop Hiking Trail on October 18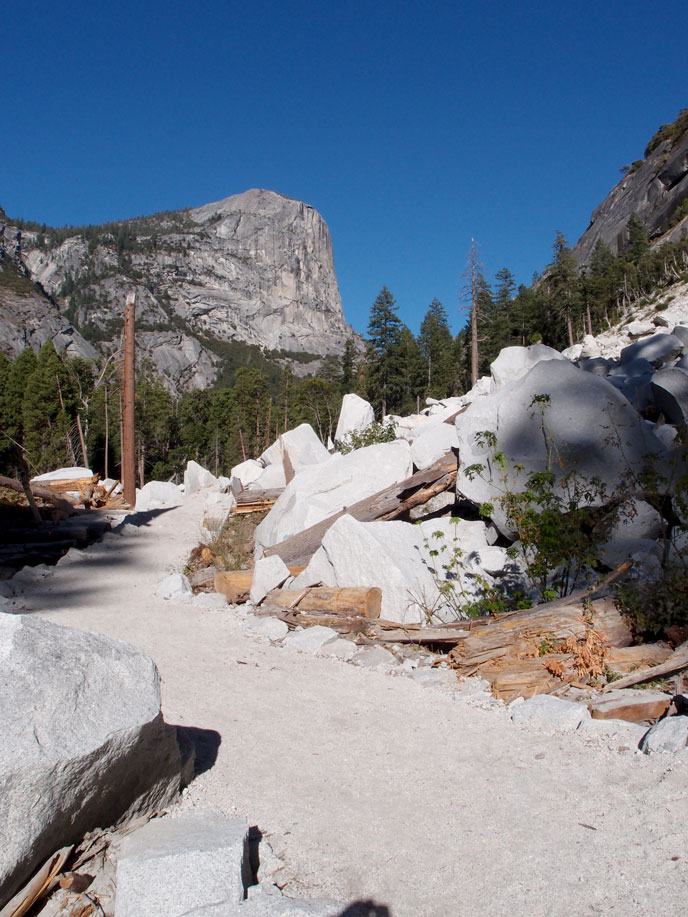 News Release Date:
October 17, 2012
 Trail Closed in 2009 Due to Large Rockfall

Yosemite National Park will reopen the Mirror Lake Loop hiking trail tomorrow, Thursday, October 18, 2012, at 5:00 p.m. The five mile loop that follows Tenaya Creek around Mirror Lake in Yosemite Valley has been closed since March 28, 2009 due to a large rockfall from Ahwiyah Point near Half Dome.  

Yosemite Trail Crews have constructed a new trail on the edge of the talus slope near Tenaya Creek. Work consisted of removing trees and rock in order to create new trail alignment. Several blasting operations have occurred over the past several weeks in order to remove large pieces of granite from the trail corridor and create new material for retaining walls and trail construction. Trail crews will be present on the trail over the next several days to complete the work.  

Rocks fell approximately 1,800 feet to the floor of Yosemite Valley from Ahwiyah Point, knocking down hundreds of trees and burying hundreds of feet of the trail on the southern portion of the loop. The impact of the rocks hitting the ground generated a magnitude of a 2.4 earthquake. The rockfall was estimated to be approximately 43,000 cubic meters, or 115,000 tons. No injuries or structures were affected by the rockfall. The Ahwiyah Point rockfall is the largest rockfall documented in Yosemite National Park since the Middle Brother rockfall event in 1987.  

Rockfalls are a natural and dynamic geologic process. Due to its steep, glacier-carved cliffs, Yosemite Valley experiences many rockfalls each year. Natural processes like rockfall help to create the beautiful and changing scenery in Yosemite National Park.

Last updated: March 1, 2015