Endangered Sierra Nevada Bighorn Sheep Restored to Yosemite and Sequoia National Parks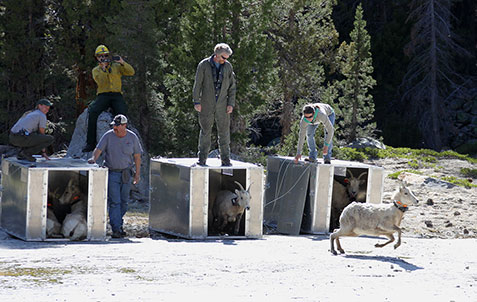 News Release Date:
March 30, 2015
A multiagency operation was recently concluded that returned two herds of endangered bighorn sheep to locations in Yosemite and Sequoia National Parks. The California Department of Fish and Wildlife (CDFW), Yosemite, Sequoia, and Kings Canyon National Parks, Inyo National Forest, and the U.S. Fish and Wildlife Service, worked together on the complex operation in the Sierra Nevada.
Between March 26 and March 29, 2015, nine ewes (females) and three rams (males) were moved from the Inyo National Forest and Sequoia National Park to the Cathedral Range in Yosemite National Park. In addition, seven ewes were moved to the Laurel Creek area of Sequoia National Park;the CDFW will attempt to move an additional three rams to that area on March 30.
The Sierra Nevada bighorn sheep is the only federally endangered mammal in Yosemite, Sequoia, and Kings Canyon. This animal was listed in 2000 after the population plunged to a low of about 100 individuals. The population has since increased to over 600, which marks an important milestone towards their recovery. Prior to the arrival of western settlers, which brought unregulated hunting and diseases in their livestock, bighorn sheep populations likely numbered in the thousands.
This latest chapter in the multi-year recovery effort involved the capture of Sierra Nevada bighorn sheep in wilderness areas on these federally managed lands. CDFW staff and volunteers, as well as veterinarians, biologists, and staff from other agencies, assessed the health and safety of the animals throughout the entire process. Each animal was fitted with a radio collar and a Global Positioning System (GPS) collar in order to track its movements over the next several years.
The newly released bighorn sheep are expected to thrive in their new homes because both of these historically occupied areas have superb summer habitat with adequate forage, are close enough to other Sierra Nevada bighorn sheep to provide the potential for connectivity among herds, and are far enough from most domestic sheep grazing areas to provide a buffer from potential disease transmission. 
"This is a legacy event for Yosemite National Park and the bighorn sheep," said Don Neubacher, Yosemite National Park Superintendent. "Additionally, this is one of the Signature Centennial projects for the National Park Service and we are ecstatic to see bighorn sheep in the Cathedral Range for the first time in more than 100 years." 
"This project would not have been possible without the leadership of the California Department of Fish and Wildlife and strong interagency cooperation with the U.S. Forest Service, and the U.S. Fish and Wildlife Service," said Woody Smeck, Superintendent of Sequoia and Kings Canyon National Parks.
"With this week's reintroductions, we now have bighorn distributed throughout all geographic areas identified as critical habitat in the Recovery Plan," said Tom Stephenson, leader of the Recovery Program with CDFW. 
Yosemite Conservancy funded equipment and experts to bring the new herd into Yosemite National Park, as well as the GPS collars to track the animals' movement and location. Over the past 20 years, Yosemite Conservancy has funded nearly $630,000 to help protect bighorn sheep by supporting research, translocation efforts, radio and GPS collars. The Sierra Nevada Bighorn Sheep Foundation and the Wild Sheep Foundation funded the translocation into Sequoia National Park. 
"Bighorn sheep are a true symbol of wilderness and represent the need to protect wild lands," said Frank Dean, Yosemite Conservancy President. "With the reintroduction, visitors will experience a wilderness similar to that found in the days of John Muir, when large alpine wildlife was abundant." 
Sierra Nevada bighorn sheep are well known for their large size, strength, and ability to negotiate precipitous terrain. Adult males, called rams, stand over three feet tall at the shoulder and weigh up to 220 pounds; females, called ewes, weigh up to 155 pounds. Both rams and ewes have permanent horns;rams' horns are massive and coiled, whereas ewes' horns are shorter with less curvature. Bighorn sheep display a range of body coloration, from dark brown to almost white, and have a large white rump patch and a short, dark tail. Rams live to be 10 to 12 years old, and ewes live to be 12 to 17 years old. During breeding season (rut), bighorn rams compete for their right to mate with ewes. Dominance behavior includes kicking, butting, neck wrestling, and dramatic horn clashes that sound like thunder. Breeding generally takes place in November. Starting at two years old, ewes give birth to one lamb between late April and mid-June. Mothers typically wean their lambs by five months of age. The lambs become independent of their mothers when they are about one year old. 
Editor's Note: 
Please see the attached photos of the reintroduction of the Sierra Nevada bighorn sheep into Yosemite National Park. Photo credit: Yosemite Conservancy/Steve Bumgardner.
Video and still images of the reintroduction are available

Bighorn sheep in Yosemite: Bighorn were first reintroduced to Yosemite National Park in 1986. These small herds still persist, and can sometimes be seen summering along the Sierra crest, on such peaks as Mount Dana and Mount Gibbs. However, the areas inhabited today represent only a fraction of the bighorn sheep's former range, and until a more robust population is established, one of Yosemite's greatest wilderness icons will remain at risk.  
The Cathedral Range offers bighorn sheep superb habitat with steep cliffs and rocky outcrops for evading predators and lush vegetation for remaining healthy and strong. It also has the advantage of providing geographic separation from disease-carrying domestic sheep, and potential connectivity with existing herds. The return of this long-absent wilderness icon to the heart of Yosemite will restore the alpine ecosystem and provide more opportunities for backcountry hikers to view bighorn sheep in their native habitat.
Last updated: March 30, 2015