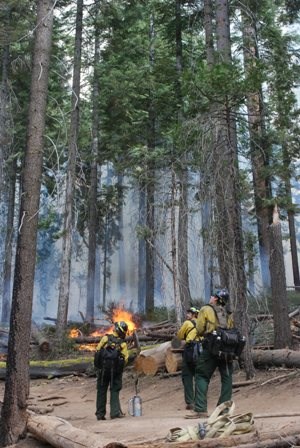 Do You See Smoke?
When visiting Yosemite, it is possible to see fire and smoke at any time of the year. Beginning in fall through early spring, piles from mechanical thinning projects are often being burned in various areas throughout the park and along roadways. Spring, summer, and fall are all busy seasons for fire whether from management-ignited prescribed fires, or managed lightning ignited fires.

Where there is fire, there is smoke. During both prescribed burn projects and managed lightning fires smoke and air quality conditions are consistently being monitored to help minimize smoke impacts. However, it is inevitable that some smoke will be present—whether on roadways, in campgrounds, or in areas that obscure vistas. If you are sensitive to smoke, you may consider visiting an area of Yosemite where fire or smoke is not present, and taking any other precautions that will help lessen smoke-related health problems.

It is a unique and exciting opportunity to observe fire in the wilderness. If possible, Yosemite attempts to leave nearby roads and trails accessible during fire projects so that visitor services are not compromised. When conditions allow, this can be a great chance for people to learn more about natural fire firsthand.

Fire managers are aware of the need for smoke management in order to reduce impacts to park visitors and neighboring communities. Yosemite Fire and Aviation works closely with park air quality managers to calculate how much
smoke may be produced based on the vegetation (fuel) type, number of acres, and meteorlogical conditions. Portable and stationary particulate monitors are placed in areas that are most likely to see impacts of smoke during certain hours of the day. The local Air Quality Districts use the data from these monitors to issue air quality alerts and notices.

During times where smoke from a wildland fire is affecting the park, the local Air Quality District will send out alerts and notices. We work closely with local districts to maintain that conditions are within legal limits and not posing threats to people in nearby communities. Overall, we want you to have a positive experience visiting or living near Yosemite, while also learning about fire's important role in the ecosystem.

Allowing fires to burn naturally can result in a healthier, more diverse ecosystem. Reducing fuel buildup minimizes the potential for future catastrophic fires. Although the current fire may have transient, moderate smoke impacts, more severe fires can cause unhealthy levels of smoke for extended periods, over a much wider area.

If you have low tolerance for smoke, take these measures to reduce your exposure in places where smoke from wildland fire is occurring:
Stay indoors as much as possible, especially sensitive individuals and avoid physical exertion.
Close windows, doors, and outside vents when it is smoky. Use a fan or air conditioner to recirculate the air. Ventilate your home and work place during periods when it is least smoky.
Drink lots of water, eat a balanced diet, and get adequate rest. Good health strengthens your immune system.
Be diligent about taking medicines prescribed by your doctor, if you have pre-existing respiratory problems.