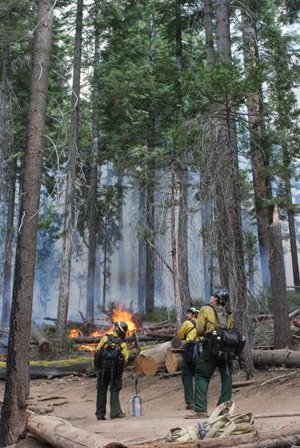 Do You See Smoke?
When visiting Yosemite, it is possible to see fire and smoke at any time of the year. Beginning in fall through early spring, piles from mechanical thinning projects are often being burned in various areas throughout the park and along roadways. Spring, summer, and fall are all busy seasons for fire whether from management-ignited prescribed fires, or managed lightning ignited fires.
Where there is fire, there is smoke. During both prescribed burn projects and managed lightning fires smoke and air quality conditions are consistently being monitored to help minimize smoke impacts. However, it is inevitable that some smoke will be present—whether on roadways, in campgrounds, or in areas that obscure vistas. If you are sensitive to smoke, you may consider visiting an area of Yosemite where fire or smoke is not present, and taking any other precautions that will help lessen smoke-related health problems.
It is a unique and exciting opportunity to observe fire in the wilderness. If possible, Yosemite attempts to leave nearby roads and trails accessible during fire projects so that visitor services are not compromised. When conditions allow, this can be a great chance for people to learn more about natural fire firsthand.
Fire managers are aware of the need for smoke management in order to reduce impacts to park visitors and neighboring communities. The Fire Management Branch works closely with our Air Quality Resources staff to maintain that conditions are within legal limits and not posing threats to people in nearby communities. Overall, we want you to have a positive experience visiting or living near Yosemite, while also learning about fire's important role in the ecosystem.