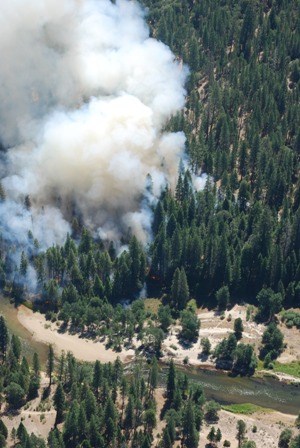 Prescribed Fire
Prescribed fires are used to mimic the natural presence of fire in an ecosystem. They are ignited under optimal conditions by qualified park staff, and they remove dead and overgrown vegetation that could contribute later to a more severe fire.
A Prescription for Fire
A fire's prescription is the window within which a fire may be ignited. The timing and scheduling of these fires depends on a variety of factors, including fuel conditions, weather, air quality, and other events occurring in the park. The conditions are selected to maximize the ability to control the fire and minimize smoke in local communities. These fires are intentionally set to meet certain objectives and achieve specific goals, such as protecting a developed area from future fires, or burning a section of forest that has become overgrown.
Prescribed fire helps reduce heavy fuel loads while simultaneously opening the conifer forest structure and maintaining the health of meadow habitats. Fire is also used to enhance native plant communities, cultural landscapes, and improve wildlife habitat. Another goal is to provide defensible space for communities and developed areas within and surrounding the park. Since the 1970s, park managers have been using prescribed fire and managed lightning fire to help achieve these goals.
Map Showing Prescribed Fire History (1970-2017)