Climate Change: What can we do?


Scientists use models to predict environmental changes caused by current and future levels of greenhouse gases. However, greenhouse gas emissions—and the scale of environmental change—depend entirely on public policy and individual actions. Everyday choices, while small in the context of global climate change, lay the foundation for the Yosemite that we will leave for the next generation.
When adopted by enough people, small changes can lead to larger ones. The ideas below can help you reduce the carbon footprint of your trip to Yosemite. As one of four to five million people that pass through Yosemite's entrances each year, consider the impact of each small choice—magnified by millions.


---
Ride public transit! Globally, travel is a significant source of the greenhouse gases that cause climate change (automobiles make up 60% of the park's greenhouse gas emissions). YARTS buses (which include free admission to the park) provide year-round access to Yosemite from communities as far away as Merced. Inside the park, free shuttles can help you get around the Valley without the stress of finding parking. During the busy summer, biking is often an even faster way to travel between destinations in Yosemite Valley.
Carpool. Riding with friends and family saves money (park entrance passes are sold per vehicle), as well as the stress of finding multiple parking spots. Free park-and-ride lots in Mariposa and Midpines can serve as great meeting places to consolidate into one vehicle, if arriving from different directions.
Don't toss it in the park! All waste disposed of in the park must be transported long distances on trucks, multiplying the emissions generated by your visit. Reduce the amount of trash you produce by leaving extra packaging at home, bringing reusable water bottles, containers, and eatware, and packing out your own trash when you leave. Challenge yourself: can you leave nothing behind in Yosemite?
Recycle. Manufacturers that reuse recycled plastic, glass, paper, and metal rather than creating new products use much less energy, generating fewer emissions. However, almost one-third of items that could be recycled in the park are thrown in the garbage. Help bring that number down by looking for green recycling bins located in all concession facilities and public areas.
Use common-sense energy-saving measures. When staying in hotels and lodges, make sure to leave the lights off and heat or air conditioning turned down when you leave for the day. Check your lodgings' policy on laundry; not changing linens and towels daily conserves electricity and water.
Be idle free! Consider turning off your engine if you're waiting in traffic or road work. The fumes from thousands of idling vehicles adds significantly to greenhouse gas emissions produced in the park. If you're camping with a generator, use it only as necessary.
Start a conversation. Global climate change is one of the most challenging issues of the 21st century. What does change in Yosemite mean to your family, friends, or tour group? What does it mean to other visitors, to local native communities, to the millions of people that rely on water from the Sierra Nevada snowpack? The future of public lands is shaped by these conversations, individual action, and public policy.
Climate Change in Yosemite
What does it mean to conserve and protect a place during a time of large-scale environmental change?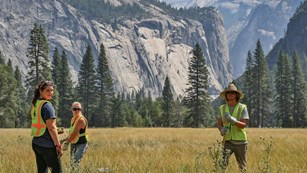 How is the park responding?
Yosemite serves as a unique living laboratory for climate scientists and a center for teaching, learning, and connection.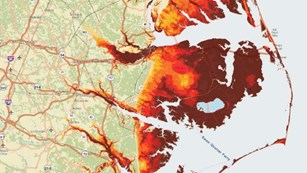 Climate Change and the NPS
Learn more about the impacts of climate change in national parks and protected places across the country.
Last updated: April 1, 2020