Thomas Hill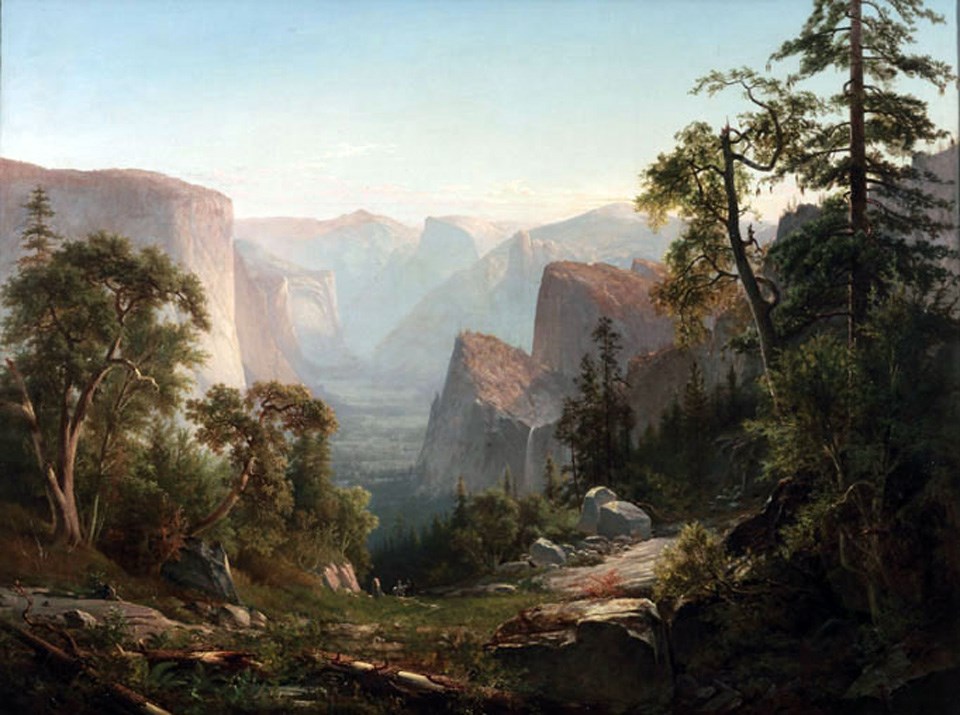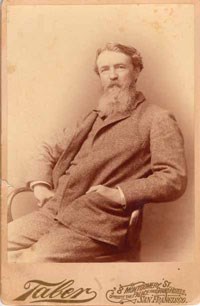 The Man Behind the Painting
Born in Birmingham, England, in 1829, Thomas Hill moved to the United States at the age of 15 and enrolled in the Pennsylvania Academy of Fine Arts nine years later. He later visited the White Mountains of New Hampshire and became acquainted with the landscape painters of the Hudson River School. In 1858, he had his first exhibition of thirty oil paintings in Boston. In 1861, Hill and his family moved to California, where he set up a studio in San Francisco. He made his first documented trip to Yosemite in 1865, with travel companions painter Virgil Williams and photographer Carleton Watkins.
At thirty-six, Hill returned to San Francisco and painted California scenes, including several Yosemite views. He was successful, and sold both landscapes and portraits during the boom times following the completion of the Union Pacific Railroad and the discovery of silver in Nevada. But Hill, restless and ambitious, soon felt he needed more training if he was to grow as an artist and, leaving his family behind, traveled to Europe in 1866. The ten months Hill spent in Europe were undoubtedly important to the developing artist. He studied with Paul Meyerheim in Paris, who encouraged him to focus on landscape painting. Hill was exposed to the Barbizon School, which placed emphasis on naturalistic landscape painting as opposed to artificially romanticized exaggeration. While in France, he continued to work on paintings of California, including Yosemite.
Returning to the United States in 1867, Hill opened a studio in Boston, where he spent the next several years painting, exhibiting, and raising a family.
In 1872, Thomas Hill moved back to San Francisco with his wife Charlotte Hawkes and their nine children. Here, amid the beauty and grandeur of the California landscape, he thrived and became an important part of the growing California art scene. During the late 1870s, Hill became increasingly popular as a landscape painter, particularly of Yosemite subjects. After a sketching tour in the spring of 1879, he returned with over 30 oil sketches, quickly turning several into larger paintings.
Hill's Studio in Wawona, near the Mariposa Grove of Giant Sequoias, was finished by January 1884. In the 1880s, he separated from his wife, and spent less time in San Francisco and Oakland.
Increasingly, he found happiness and success in Yosemite. By 1886, Hill settled at Wawona spending summers there and winters in nearby Raymond, CA. Hill's work at Wawona was prolific and modestly profitable—in three years he sold 163 paintings. He seemed to enjoy the relaxed lifestyle and easy popularity as Wawona's resident artist. As with many artists, his fortunes fluctuated with the erratic art market. After 1880, Hill's popularity declined and it became increasingly difficult for him to sell paintings. Despite suffering a stroke in 1896, he continued to paint, but his sales slowed and his travels were limited. As late as 1906, it was reported that he was "still at work and his easel is set up at a very early hour each morning." Thomas Hill died on June 30, 1908, in Raymond, California.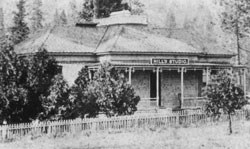 Hill's Studio
Thomas Hill's studio, on the grounds of the Wawona Hotel, became the Wawona Visitor Center in 2009. With support from Yosemite Conservancy, the National Park Service renovated the interior and added exhibits about Hill and other painters.
Last updated: October 31, 2019