New snow:
25 inches
Total settled snow depth:
26 inches (at 8,600 feet)
High temperature:
 42 degrees F (December 19)
Low temperature:
-12 degrees F (December 17)  
Ski Conditions and Weather
This is our first full update of the 2016-17 winter season. We arrived to Tuolumne Meadows on December 12
following the warm and wet storm on December 10-11. That storm fell as mostly rain below 9000 feet. There was 11 inches of snow on the ground at Tuolumne Meadows, and 28 inches at Tioga Pass following that storm. The atmospheric river was not done yet, though, as the big soaker on December 15-16
dropped snow down to approximately 8000 feet.  We recorded 25 inches of snow and a whopping 3.1 inches of water from that storm. Snow coverage is excellent on all aspects above 8,500 feet presently. The snow is wind affected above 9000 feet, so ski conditions and snow depth vary by aspect. Ski conditions are currently very good along the Tioga Road. The above normal temperatures this week have settled the snowpack at the mid elevations and trail breaking has gotten easier over time. Visitors planning a trip to Tuolumne Meadows for the holidays should closely monitor the
weather forecast
and be prepared for changing conditions.         
Avalanche and Snowpack Conditions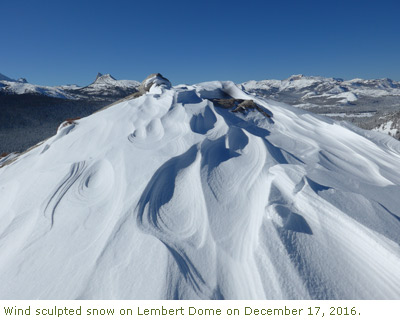 Please refer to the 
Eastern Sierra Avalanche Center
 for the avalanche advisory for this part of the Sierra Nevada.  
The snowpack shows an interesting stratigraphy presently. Due to the fluctuations in snow line in the recent storms, and the high winds that accompanied the snowfall, it is quite a grab bag out there.  We observed significant avalanches following the last storm primarily on N-NE aspects above tree line. This comes as no surprise, as the high amount of water (weight) that was added to the snowpack over such a short period caused a shock loading of the slopes and resulted in a stress exceeding strength scenario. High winds resulted in wind slab development, also above tree line.  Over time the snowpack has become more stable, particularly at the mid elevations. The avalanche hazard along the Tioga Road is presently low, though changing conditions can be expected with any new snowfall.  
Wildlife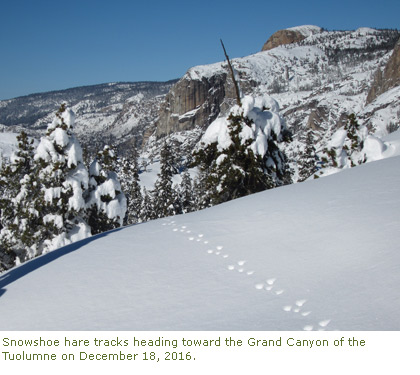 A variety of animal tracks were observed in the newly fallen snow this week. The weasel family was well represented with tracks from long and short tailed weasels, and pine marten tracks were observed throughout the area. Flocks of American Robins were observed on the sunny, south facing slopes of Lembert Dome. Bobcat tracks were observed in Tuolumne Meadows.   







Questions 
The Tuolumne Meadows Ski Hut is open. There is firewood and 10 bunks that are available on a first-come, first-served basis. There is power but no phone service in Tuolumne Meadows this winter. We can be contacted via
email
, but we may be delayed in responding if we are on patrol. The
Snow Creek Cabin
is also open, but there have been some changes made to its operation.
Contact the wilderness office at 209/372-0740 with any questions or concerns. Come prepared, and please make good decisions while travelling in the wilderness this winter.
Happy Winter Solstice!
Laura and Rob Pilewski - Tuolumne Winter Rangers