Swim and Soak
Yellowstone offers very limited opportunities to swim or soak. High-elevation lakes and rivers swollen with snowmelt make for cold water where hypothermia always presents a risk. On the other end of the temperature spectrum, the water in park hot springs often reaches the boiling point. For this reason, and to protect the park's unusual thermal environments, soaking in hot springs is prohibited.
In addition, swimming is not allowed in the Bridge Bay Marina Channel.
Warnings
If you choose to swim in Yellowstone's lakes or rivers, you do so at your own risk. Lifeguards are not present, even at the popular swimming areas listed below.
All thermal waters contain organisms that may cause illness, including skin rash, gastrointestinal illness (vomiting and diarrhea), or other infections that can be life-threatening. The risk of contracting these infections in Yellowstone is not known to be higher than any other natural body of thermal water.
To minimize the risk of illness from swimming and soaking in Yellowstone:
Avoid swallowing river water.
Avoid submerging your head or activities that cause water to enter your nose. If you submerge your head, wear nose plugs or hold your nose shut.
Do not swim if you have diarrhea. You can spread germs in the water and make other people sick.
Boiling River
No swimming at Boiling River. Currently, swimming is not possible at Boiling River because of the impacts to the river from the 2022 floods.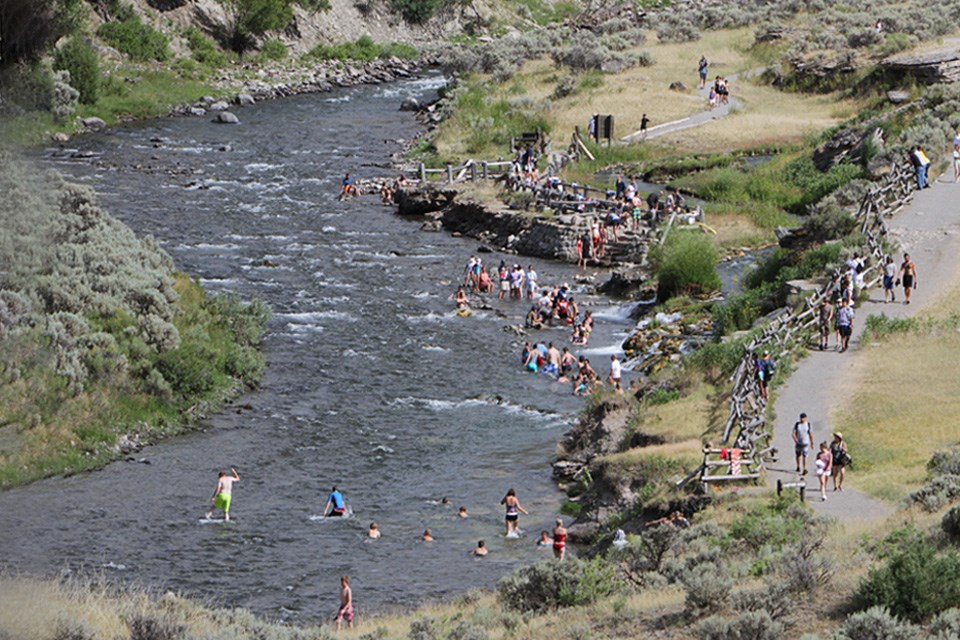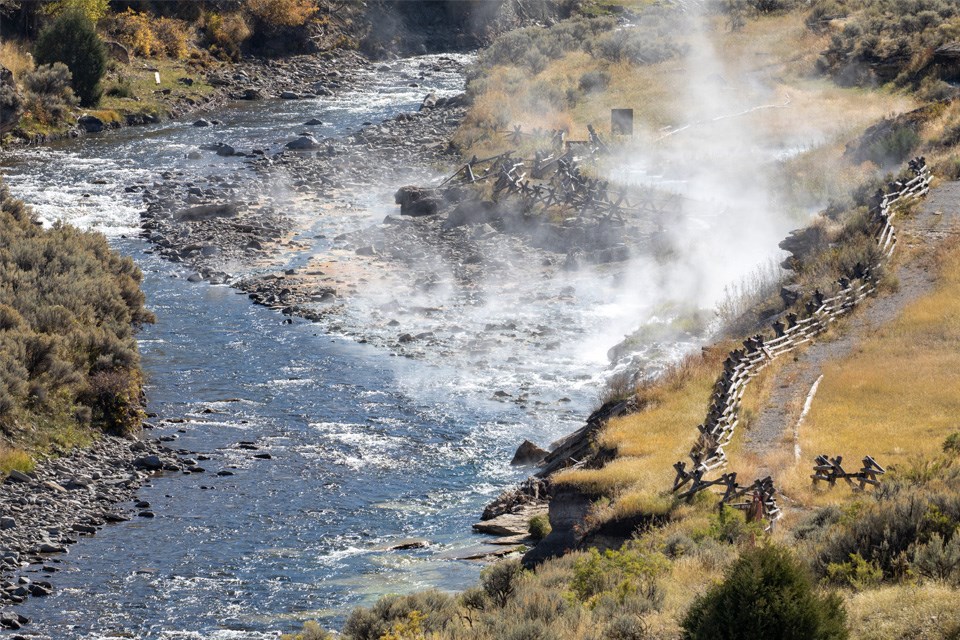 Left image
Boiling River - July 2014 (before flood event)
Right image
Boiling River - October 2022 (after flood event)
Firehole Swim Area
The Firehole Swim Area is located on the Firehole River, two miles south of Madison Junction on Firehole Canyon Drive. Two vault toilets are the only facilities in the area. The river is usually closed to swimming until mid-summer due to high water and strong currents. During years with significant snowpack and runoff, the swim area may remain closed for the entire season. Check our current conditions page for status. Water wings are allowed and life jackets are recommended.
Regulations
Swimming is only permitted during designated hours. The Firehole Swim area is closed at night.
Bathing suits are required.
No food, drink, or alcohol allowed. Cans, bottles, and plastic containers are prohibited in the swim area.
Use of soap, shampoo, conditioner or any other substance is prohibited (even if it's biodegradable).
Climbing, diving, or jumping from the cliffs or from trees in the area is prohibited.
Rafts, tubes, noodles, pool floats, and similar water toys are prohibited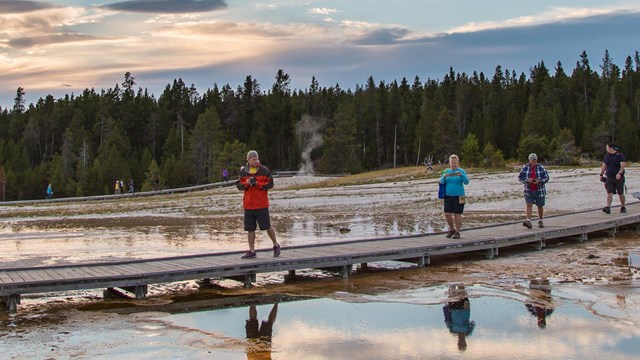 Safety
Safety tips to avoid danger and have a great trip.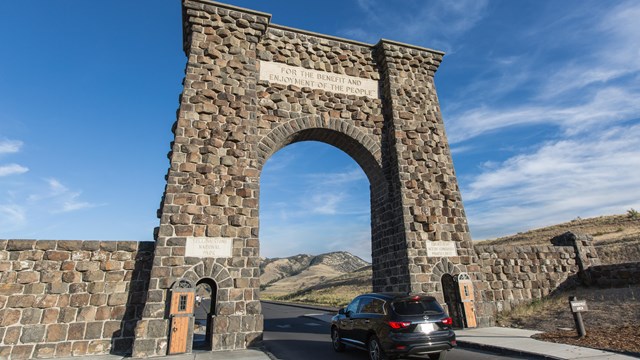 Current Conditions
Learn about things that could affect your visit before you arrive.