Slough Creek Campground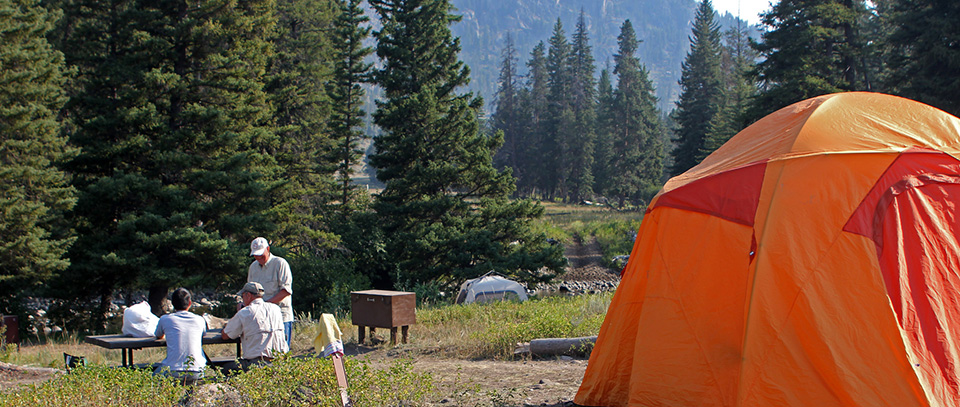 Reservations: No (all sites first-come, first-served)
Sites: 23
Elevation: 6,250 feet above sea level
Accessible Sites: No
Flush Toilets: No (vault toilets)
Generators: No
RV Sites: 14 sites with max length of 30' (walk through first to assess sites)
Dump station: No
Photos: View album

Slough Creek Campground, elevation 6,250 ft (1,905m), is open mid-June through early October. It is located between the Lamar Valley and Tower-Roosevelt area, 2 miles down a dirt road, near some of the best wildlife watching opportunities in Yellowstone National Park. Slough Creek is also a very popular stream for fishing. The famous, scenic Beartooth Pass is within a short drive.
Some sites are located in the trees, some in an open sage meadow, and some sites are along the banks of Slough Creek. There are plenty of hiking opportunities nearby, including the Slough Creek Trail which begins a short distance from the campground entrance. Nighttime offers a quiet, unimpeded view of the stars and the possibility to hear howling wolves.
Slough Creek Campground is generator free with drinking water and vault toilets, and is best suited for tents and small RVs. Each campsite has a picnic table and fire pit with grate. Food storage boxes measuring 48 x 22 x 22 inches are available for shared use.
Campsites are on a first-come, first-served basis. One of the most popular campgrounds in the park, Slough Creek is often full by 8 am from its opening day through mid-September.