Road-Based Tours
These businesses are authorized to provide road-based interpretive tours and non-instructional photography within Yellowstone National Park. If you're planning a winter visit, be sure to check the list of snowmobile and snowcoach tour providers.
Alltrans: 307–733–4325
AVR Ventures, LLC: 307–690–6106
Back Country Sports: 208–652–3385 or 208–680–3385
Backcountry Safaris, LLC: 307–413–9300
Bear Witness Safari Co.: 307–699–8507
Big Sky Adventures & Tours: 406–451–1650
BrushBuck Guide Services, Inc.: 888–282–5868
Buffalo Bus Touring Company: 800–426–7669
Buffalo Roam Tours: 307–413–0954
Canyon Teton, LLC: 307–734–7333
Discovery Yellowstone Tours: 866–661–6836
Earth Tours –Yellowstone National Park Tours: 307–733–4261
Easy Tours, LLC: 406–640–0026
Environmental Adventure Company: 406–222–5660
Field Guides, Inc.: 800–728–4953
Flying Pig Adventure Company, LLC: 406–848–7510
Four Seasons Resort and Residences Jackson Hole: 307–732–5074
Gary Fales Outfitting: 307–587–3970
Grand Teton Adventure Co.: 307–734–4454
Grand Teton Tours: 307–413–5488
Greater Yellowstone Guides: 406–587–9080
Grizzly Country Wildlife Adventures LLC: 307–413–4389
In Our Nature Guiding Services: 406–579–3838
Jackson Hole EcoTour Adventures: 307–690–9533
Jackson Hole Adv. Center dba Scenic Safaris: 307–413–9679
Jackson Hole Grand Expeditions: 307–543–6025
Jackson Hole Wildlife Safaris, LLC: 307–690–6402
James Kemp, dba Best Western by Mammoth: 406–848–7311
Karst Stage: 406–556–3506
Let's Go Adventure Tours and Transportation: 406–249-6816
Lone Mountain Ranch: 406–995–4644
Matthews Expeditions: 406–223–5134
Mountain Mike's Taxi: 307–774–1000
Mountain Sky Guest Ranch, LLC: 406–333–4911
MT 750 Lone Mountain Ranch Road, LLC: 406–995–4644
Naturalist Journeys, LLC: 520–558–1146
Naturalist's World: 406–848–9458
O.A.R.S.: 307–223–0058 or 855–541–4793
Off the Beaten Path: 406–586–1311
Outdoor Adventures/Upstream Anglers: 307–733–8057
Park City Limousines: 801–467–8687
Peak DMC North America: 707–523–1800
Phidippides, Inc.: 307–527–6789
Roam Yellowstone Guiding: 406–551–6518
Safari Yellowstone: 406–222–8557
SeeYellowstoneTours: 800–221–1151
Scenic Safaris: 307–734–8898
Solitude Excursions: 307–203–5289
Shurr Adventures Inc.: 239–300–3004
Sixty-Three Ranch: 406–222–6963
Spring Creek Ranch: 307–732–8148
Teen's Camping Tour of West: 540–668–6028
Teton Scenic Floats & Fly Fishing: 307–413–4464
The Wyoming Guide Company: 307–690–3426
Tied to Nature: 208–351–5932
Tour Yellowstone: 307–527–6316
Upstream Anglers & Outdoor Adventures: 307–690–3183
Walking Shadow Ecology Tours of Yellowstone: 406–223–5967
Western Trails Charters & Tours, LLC dba Salt Lake Express
Wild Bear Adventures, LLC: 406–848–9445
Wild Things of Wyoming, LLC: 307–690–6784
Wild Trout Outfitters: 406–995–2975
Wildlife Expeditions: 307–733–2623
Yellowstone Alpen Guides: 800–858–3502
Yellowstone Day Tours: 307–201–1499
Yellowstone Excursions: 406-570-4900
Yellowstone Guide: 424-333-4682
Yellowstone Guidelines: 406–599–2960
Yellowstone Insight: 406–640–1164
Yellowstone Luxury Tours: 406–995–4895
Yellowstone Mountain Club
Yellowstone National Park Lodges: 307–344–7311
Yellowstone Outdoor Adventures: 406–763–5117
Yellowstone Outfitters (Hubbards): 406–848–7755
Yellowstone Roadrunner Taxi: 406–640–0631
Yellowstone Safari: 406–586–1155
Yellowstone Tours From Jackson Hole: 307–699–7922
Yellowstone Tour Guides: 888–493–2260 or 406–995–2399
Yellowstone Wild, LLC: 406–224–0001
Yellowstone Wildlife Adventures: 307–699–0495
Yellowstone Wildlife Photo Tours: 307–587–6988
Yellowstone Wild World, LLC: 406–641–0931
Yellowstone Wolf Tracker dba The Wild Side: 406–223–2152
Yellowstone Wonders LLC: 406–224–3561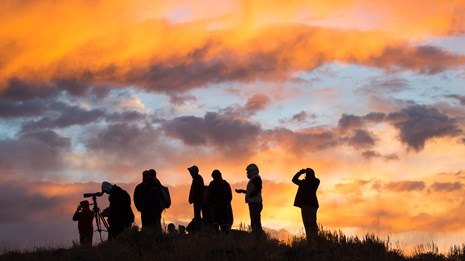 Join a Guided Tour
Professional guides can help you make the most of your visit.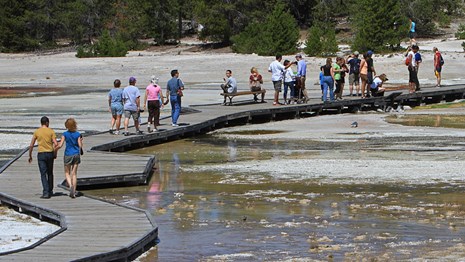 Things To Do
Explore all the different things there are to do in the park.
Last updated: March 15, 2021