Your Fee Dollars at Work
Eighty percent of recreational fees collected in the park are reinvested right here in Yellowstone. The park uses revenues from fees for all kinds of projects, including deferred maintenance projects, that improve visitor facilities like park roads, campgrounds, trails, and boardwalks.
Today Yellowstone collects approximately $14 million in recreation fees per year. That means that over $11 million per year goes directly into projects benefiting the visitor experience. Over time, this really adds up and hundreds of projects have been completed using fee money. Read a few examples below, and remember, they were only possible because of money collected from park fees.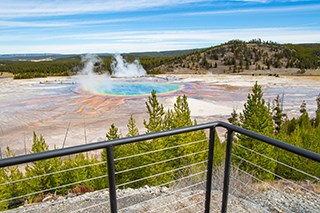 Grand Prismatic Overlook Trail
Resource damage and visitor safety concerns from off-trail travel on the hills south of Grand Prismatic Spring led the park trail crew to construct the new Grand Prismatic Spring Overlook Trail. The new trail and 750 square foot platform allows visitors safe and spectacular views of Grand Prismatic Spring and Excelsior Geyser. Trail crew also rehabilitated the hillside resource damage. They designed and built the trail with assistance from the Montana Conservation Corps and Yellowstone's Youth Conservation Corps.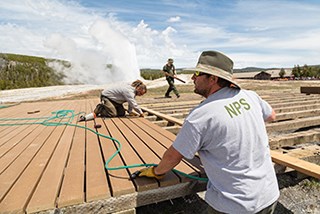 Old Faithful Boardwalk Replacement
At Old Faithful park crews and the Montana Conservation Corps are replacing 30,000 square feet of a 20-year-old boardwalk with a composite lumber made from plastic and wood fiber. Once the three-year project is completed, the replacement boardwalk and deck will allow millions of visitors to safely enjoy Yellowstone's most famous geyser.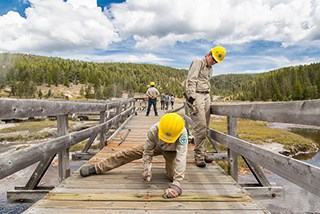 Yellowstone Youth Conservation Corps
The Yellowstone Youth Conservation Corps provides 62 teenagers the opportunity to learn and work in Yellowstone National Park. The program is challenging, educational, and fun: offering participants opportunities to expand their horizons while building skills that will benefit them for a lifetime. Crews repair fences, replace tent pads in campgrounds, and rehab hiking trails.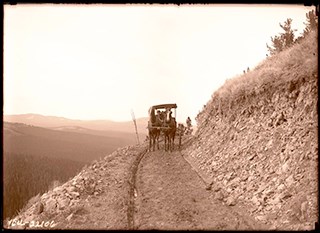 Digitizing Historic Photos & Documents
Yellowstone's archives and museum program used fee money to digitize historic photographs, negatives, and documents and place them online. Over 350,000 documents, photographs, and negatives from the park's historic collection were digitized, greatly improving accessibility to them. Some of the items may be viewed on the NPS Web Catalog and the Montana Memory Project.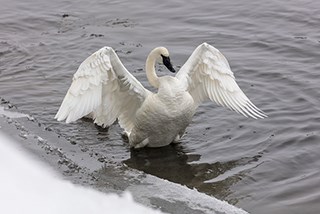 Waterfowl Monitoring
Fee dollars support monitoring the trumpeter swan, the common loon, the double-crested cormorant, and the American white pelican. Yellowstone has years of data about the rate and success of nesting for some of these species, but little information about changes in the timing of nesting activity, which is an indicator of climate change. Monitoring Yellowstone's waterfowl helps inform park managers of potential shifts in the ecosystem and may guide future conservation efforts.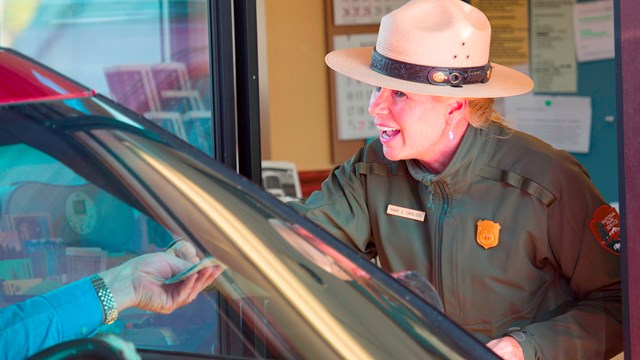 Fees & Passes
Learn about the fees and passes that are available.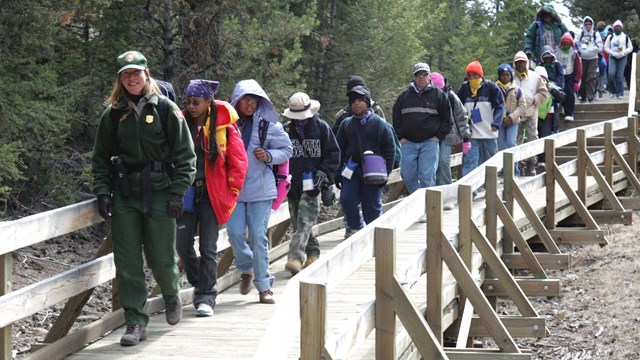 Academic Fee Waivers
Learn how your academic institute can apply for a fee waiver.
Last updated: October 19, 2022