Canyon Village & Grand Canyon Accessibility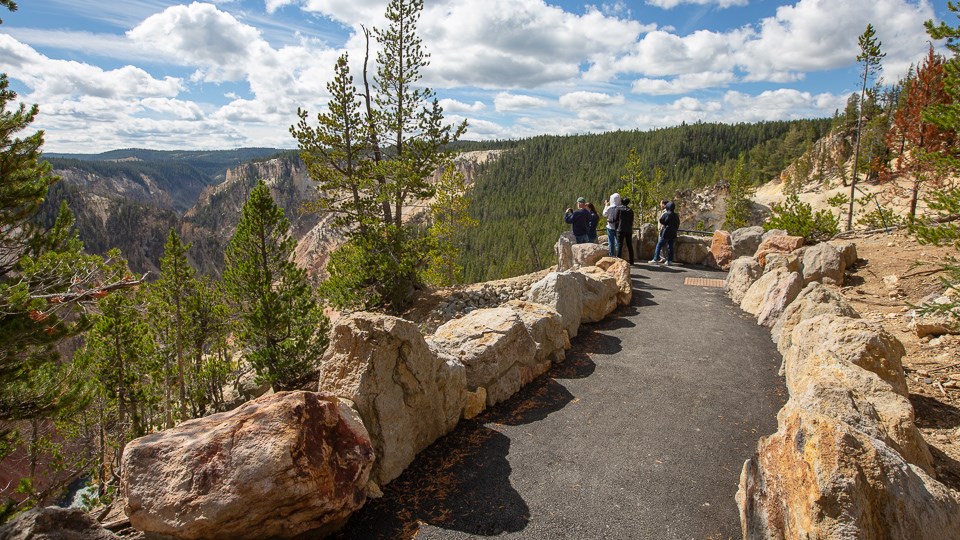 Please note: some destinations are unavailable because of the Canyon Overlooks and Trails Restoration Project.
Facilities
Canyon Visitor Education Center, Backcountry Office, & Yellowstone Forever Park Store
The building is wheelchair accessible. Accessible restrooms. Tactile and audio exhibits.
Food Service
Canyon Lodge Dining Room, cafeteria, deli: Accessible. Wheelchair-accessible restrooms in the cafeteria and deli. Family restrooms near restrooms.
Canyon General Store: Accessible.
Stores
Canyon Gas and Service Station: Staffed seasonally during daylight hours and have call buttons at the pumps. Accessible restrooms.
Canyon General Store: Accessible.
Yellowstone Adventures (Outdoor Store): Accessible.
Canyon Lodge & Cabins
Nineteen accessible rooms in Dunraven and Cascade lodges, including three accessible suites. Five accessible Western Cabin units with roll-in showers.
Canyon Campground
Three accessible sites in Loop L (can be reserved), with an extended picnic table and a raised fire grate. Accessible restrooms are also in Loop L, near the accessible sites. The camper services building is not accessible. Learn More about campgrounds in Yellowstone.
Ice Lake Backcountry Campsite (4D3)
Ice Lake backcountry campsite (4D3) is maintained to accommodate wheelchairs and has an established tent pad, and accessible pit toilet. The trailhead is between Norris and Canyon. The accessible trail is less than one-half mile long. Individuals traveling with a wheelchair may require assistance along the trail and within the campsite. Call 307-344-2160 for more details.
Learning About the Area
Films & Exhibits
The Canyon Visitor Education Center has accessible tactile and audio exhibits, Films are captioned and audio description and assistive listening devices are available for use in the theater.
Ranger-led Programs
Offered in the summer and sometimes in the fall. The schedule is in the park newspaper, in the online calendar, and posted around the area. Evening programs are accessible; others as noted.
What to See
Grand Canyon of the Yellowstone River
Accessible restrooms at Brink of Lower Falls parking area. Accessible vault toilets at Artist Point. Designated accessible parking on the north and south rims and at all overlooks. The trail guide includes more information about accessibility.
North Rim: Accessible portions of the North Rim Trail lead to additional views between the overlooks.
Brink of Lower Falls: A paved path with many steps leads toward the brink. For another view, continue right at the fork in the path on an accessible portion of the North Rim Trail.
Inspiration Point: Several accessible overlooks and viewpoints.
Brink of Upper Falls: Closed in 2018/19 for reconstruction to include accessible route.
South Rim: The lower overlook of Artist Point is accessible.
Hayden Valley
No designated parking, but the large pullouts may have enough room to maneuver a wheelchair. Nearest accessible restrooms are at Mud Volcano or Canyon areas.
Last updated: December 12, 2018