Sound Library - Fire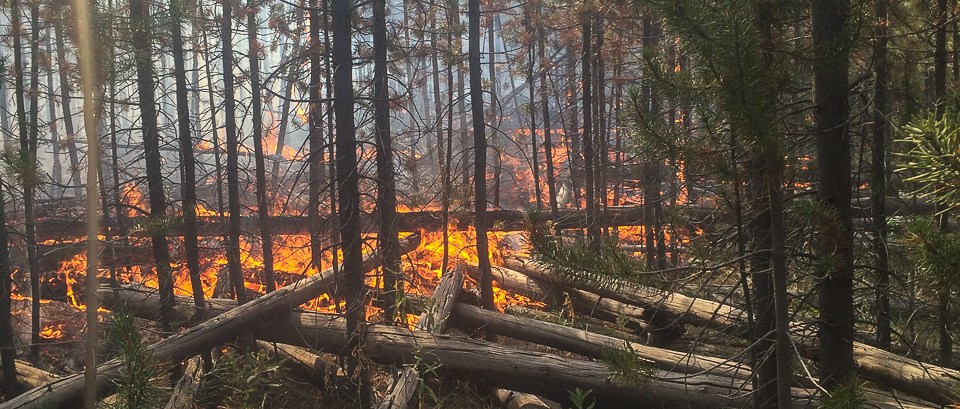 Fires tend to go through a daily ebb and flow of activity. You can hear examples of that in these recordings made at the "heel" of the Maple Fire, a lightning-caused fire that started in Yellowstone on August 8. Earlier in the morning, after the previous night's cooler temperatures and buildup of relative humidity, the fire was less active. As the day heated up and the relative humidity dropped, the winds kicked up and the fire grew significantly.
Learn more about fire management in Yellowstone.

Maple Fire, 10 am

This was recorded about 15 feet away from a stand of small, burning lodgepole pine trees. At about 14 seconds, you'll hear a small clump of trees burst into flames, or "torch."

Credit / Author:

NPS/Jennifer Jerrett

Date created:

10/14/2020
Maple Fire, 12 pm

In this recording, you'll hear the fire as it moves up a hill through dense lodgepole pine. It was made from the opposite slope across the drainage in an area that burned earlier in the week. Recorded around noon, in this clip the fire's behavior is totally different than earlier in the day. Even though the microphone is far away from the flames, you hear the bassy roar of it: the power of its low acoustic energy. In fact, one of the things that struck me while making this recording was that I could feel the rumbling in my body as it came up through the ground.

Credit / Author:

NPS/Jennifer Jerrett

Date created:

10/14/2020
Maple Fire, late afternoon

This recording features low flames slowly back-burning toward the mic, moving through a patch of open meadow with short grasses and other plants that had mostly died back for the season. It's a quiet recording, but if you listen very closely (headphones recommended), you might notice the sounds of grasshoppers as they hop away from the oncoming flames. You can hear those at 11.828, 13.000, 14.623, and 18.669 seconds. It was recorded late in the afternoon at the very edge of the Maple Fire's perimeter, but in the background you can still hear some of the more active burning in the distance.

Credit / Author:

NPS/Jennifer Jerrett

Date created:

10/14/2020
Last updated: December 13, 2018