Porcelain Basin Hot Springs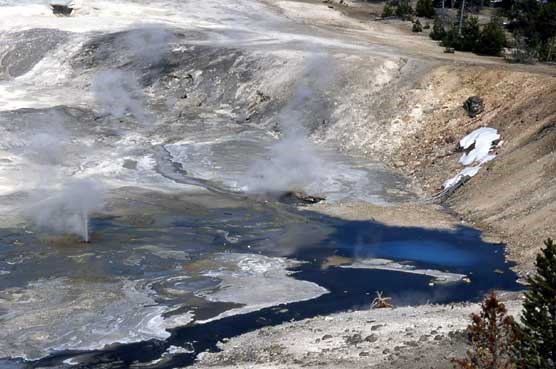 The milky color of the mineral deposited here inspired the naming of Porcelain Basin. The mineral, siliceous sinter, is brought to the surface by hot water and forms a "sheet" over this flat area as the water flows across the ground and the mineral settles out. This is the fastest changing area in Norris Geyser Basin, and siliceous sinter is one of the agents of change. If the mineral seals off a hot spring or geyser by accumulating in its vent, the hot, pressurized water may flow underground to another weak area and blow through it.
Siliceous sinter is also called geyserite. Deposits usually accumulate very slowly, less than one inch (2.5cm) per century, and form the geyser cones and mounds seen in most geyser basins.
---
Last updated: August 12, 2015