Norris Geyser Basin Tour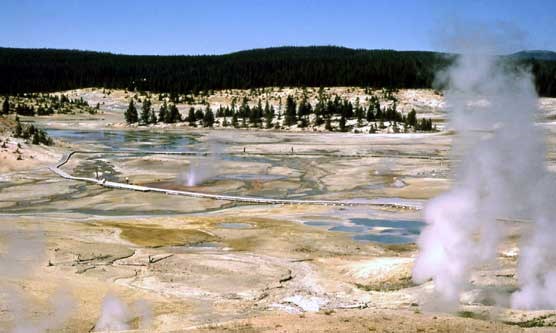 Welcome the Norris Geyser Basin Online Tour. To navigate this tour of geothermal features, simply click Next stop at the bottom of each page or select features from the list of stops.
Norris Geyser Basin is the hottest and most changeable thermal area in Yellowstone. We will explore many of the features you would see if you walked the 2 1/4 miles (3.6 km) of trails. Discover the location of the world's tallest active geyser, colorful hot springs, and microscopic life in one of the most extreme environments on earth.
Our tour starts at the Norris Museum. The museum houses exhibits relating to the origins of the geothermal features found at the basin. Two loop trails leave from here. They provide a safe route for viewing the Porcelain Basin and Back Basin.
Rainbow Colors, hissing steam, and pungent odors combine to create an experience unique in Yellowstone. Porcelain Basin is open terrain with hundreds of densely packed geothermal features; in contrast, Back Basin is forested and its features are more scattered and isolated. Click the Next Stop link below to begin your tour of Porcelain Basin.
List of Stops
We will be making the following stops on our online tour of Norris Geyser Basin. You may pick and choose from the list below, rather than taking the entire tour, if you prefer.
Porcelain Basin
Back Basin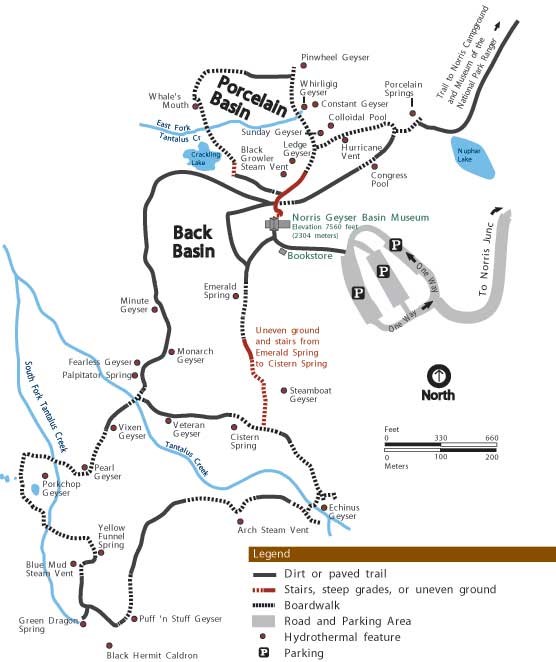 Last updated: August 12, 2015