New Citizens Sworn In At Mammoth Hot Springs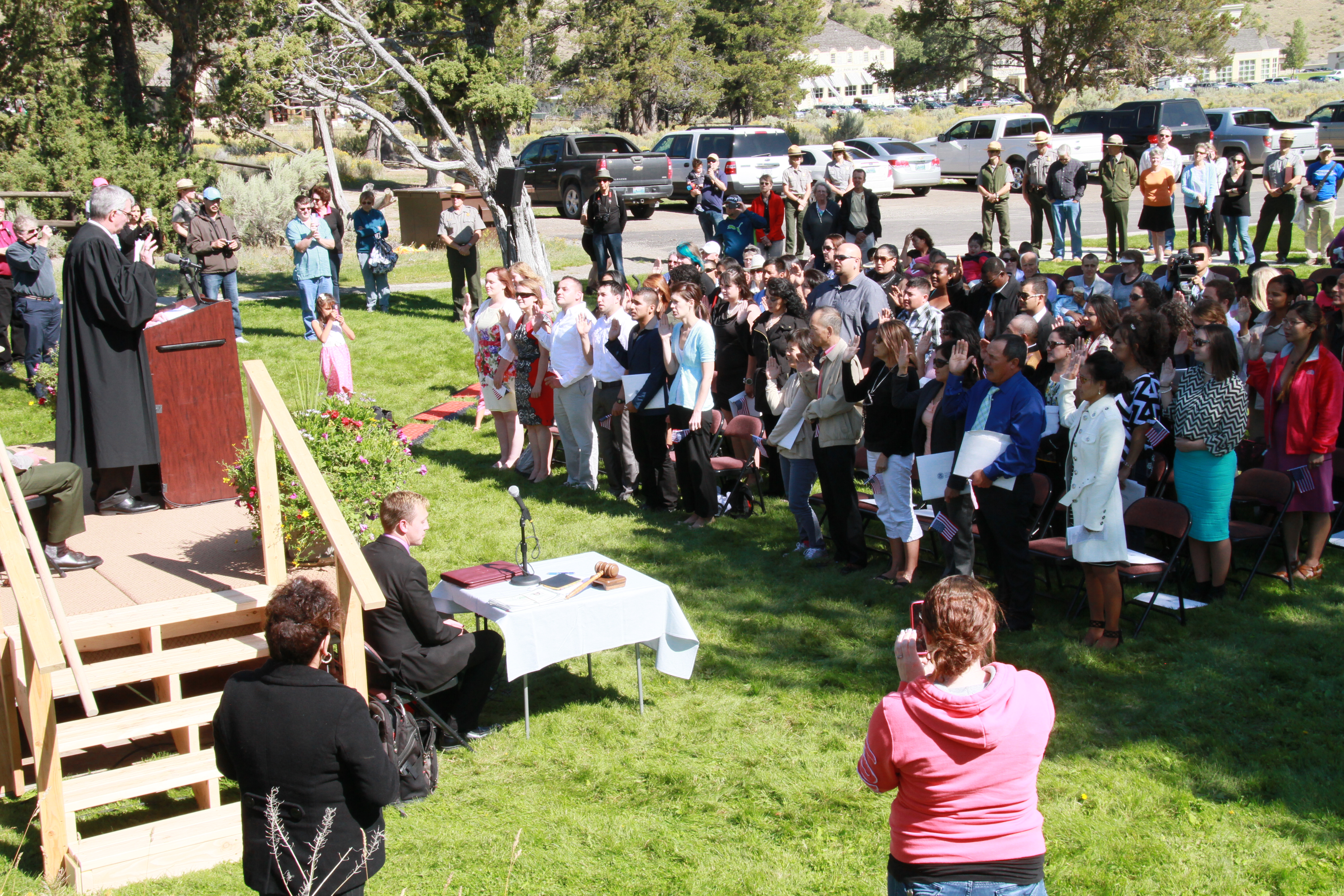 News Release Date:
September 3, 2014
U.S. Citizenship                                                          U.S. Department of the Interior
and Immigration                                                          National Park Service
Services                                                                     Yellowstone National Park
Office of Communications

-----------------------------------
N E W S R E L E A S E
-----------------------------------
Tim Counts, USCIS Public Affairs Officer - Office 952-853-2827; cell 952-232-7971; Tim.Counts@dhs.gov
Al Nash, Yellowstone National Park Chief of Public Affairs - Office 307-344-2015; cell 406-581-9030; Al_Nash@nps.gov
September 3, 2014
New Citizens Sworn In At Mammoth Hot Springs
A lengthy journey that began in distant points all over the globe culminated in the world's first National Park on Wednesday, as forty-two immigrants from 20 different countries all were sworn in as new citizens of the United States of America.
For the occasion, the Hon. Mark L. Carmen, U.S. Magistrate Judge for the District of Wyoming, held court outdoors under clear blue skies, with the Mammoth Hot Springs Terraces as a backdrop.
Judge Carman, attired in his judicial robes, presided over the ceremony which included a mounted color guard, the Pledge of Allegiance led by the daughter of one of the prospective new citizens, and the national anthem sung acapella by National Park Service ranger Michael Breis.
Joining Carman in congratulating the new citizens as well as encouraging them to take an active role in their community and nation were Yellowstone National Park Superintendent Dan Wenk, Robert Looney, the Central Regional Director of the U.S. Citizenship and Immigration Services, and Assistant U.S. Attorney Lee Pico.
The 42 immigrants originate from 20 different countries: Belize, Brazil, Canada, China, Czech Republic, Ghana, Germany, Guatemala, Italy, Iraq, Jamaica, Malaysia, Mexico, Panama, Philippines, Slovakia, South Africa, St. Lucia, Thailand, and the United Kingdom. The 42 currently live in four states: Idaho, Montana, Utah and Wyoming.
Naturalization is the process by which U.S. citizenship is conferred upon foreign citizens or nationals after fulfilling the requirements established by Congress. After naturalization, foreign-born citizens enjoy nearly all the same benefits, rights, and responsibilities that the Constitution gives to native-born U.S. citizens, including the right to vote. During fiscal year 2013, approximately 777,000 immigrants were naturalized nationwide.
Last updated: February 24, 2015