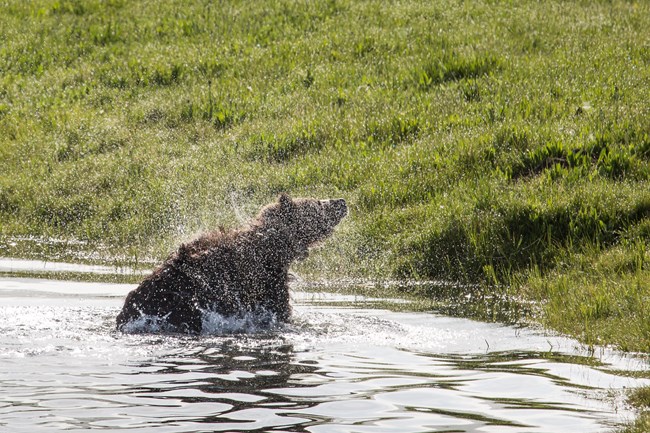 From Yellowstone Science 23(2): 2015, pages 90-95.
Farewell to a Friend
On April 22, 2015, Dr. Lester Lee Eberhardt passed away at the age of 91. Dr. Eberhardt co-authored numerous peer-reviewed papers while working with former Interagency Grizzly Bear Study Team leader Dr. Richard Knight on grizzly bear demographics in the Greater Yellowstone Ecosystem. He also worked closely with National Park Service biologists on predator-prey dynamics and the effects of wolf restoration to the ecosystem. Dr. Eberhardt was world-renowned for his pioneering work on the demographics and population dynamics of grizzly bears, marine mammals, ungulates, wolves, and other long-lived vertebrates. Like grizzly bears, he was a survivor of large-scale change, including the Dust Bowl, the Great Depression, World War II, and political battles over grizzly bear conservation and habitat protection. Dr. Eberhardt was a mentor to many biologists working in the Yellowstone area, and he will be sincerely missed by all his friends and colleagues in the world of ecology and wildlife management.
Two Grizzly Bear Patriarchs With Long Study History Pass on in 2014
Mark A. Haroldson & Frank T. van Manen
The grizzly bear research conducted in Yellowstone National Park and the surrounding ecosystem is one of the longest ongoing studies of a large carnivore in the world. The study team began capturing and radio-collaring individual bears in 1975, and the effort has continued annually through the present.As a result of the long duration of the study, researchers have developed extensive histories for numerous individual bears. These histories document when and where individuals were captured and the circumstances surrounding those events, when females had offspring and how long the young stayed with their mothers, and ultimately when bears died and the circumstance of their deaths.
This past year (2014), the study team documented the death of two male bears with long and fascinating histories. Their passing is of note because both were originally transported into the park after management captures for sheep depredations.
Bear #155 was transported to the Blacktail Deer Plateau from the Caribou-Targhee National Forest as a 3-year-old bear in September 1989. He continued to reside in the park after his release and was radio-monitored in 10 of the next 26 years, during which he traveled in the northern or center portions of the park.During the fall of 2014, at the old age of 28, he was captured and euthanized after breaking into an out-building and obtaining food rewards at a residence north of the park. The age of this bear was close to the oldest recorded age in the Greater Yellowstone Ecosystem, which was a 31-year-old male.
Bear #281 was transported to Yellowstone National Park after being captured for killing sheep near Pinedale, Wyoming, in 1996 at the age of four.Like bear #155, #281 continued to reside within the center portion of the park and was radio-monitored during 11 of the next 18 years. During early June 2014, bear #281 was observed in poor condition near Mud Volcano.Park staff and visitors watched the 22-year-old male bed down under a tree on June 3. On the morning of June 4, he was found dead in the same bed. Upon examination, park staff observed several deep wounds on his shoulders and back near the spine that were likely caused by a fight with another bear. These wounds likely contributed to his poor condition and death.
Both bears came to the park under similar circumstances, and both had a long life without much in the way of additional conflicts with humans. There are few places left in the world where large carnivores do that, but Yellowstone National Park is one of those places.
Leucistic Elk Observed in Yellowstone
Sarah Haas
In May 2015, hikers in Yellowstone's northern range encountered a rare sighting.A cow elk with a white coat was observed in a small herd foraging along a hillside. The cow elk, full grown and apparently healthy, was likely leucistic—a form of coat irregularity caused by a lack of melanin production due to a rare recessive genetic trait. Unlike a true albino, where a complete lack of melanin pigment exists, leucism results in a washed-out appearance but does allow for some coat coloration.It is rare to encounter wildlife with either leucism or albinism, as those individuals are generally removed from the population—they are usually easy prey for predators. However, some populations of leucistic animals can survive quite well when afforded conservation protection, passing on their recessive trait to multiple generations, such as the famous white lions of Timbavati in South Africa.
The rare sighting of this leucistic cow elk in Yellowstone demonstrates genetic mutation can and does occur world-wide, even in protected areas like a national park. The hikers who watched this unique individual reported that the leucistic elk seemed to be more vigilant than the rest of the herd, apparently noticing the hikers before the other elk in the group. She also tended to stay in the center of the herd, a behavior possibly learned over time to protect herself from predators due to her more obvious appearance. These sightings are of value to park managers and can be early alerts to the health of park wildlife. Please inform a park ranger if you notice odd behavior or appearance of any wildlife in the park—citizen science is a valuable tool for a 2.2 million acre management area!
Record High Number of Female Grizzly Bears with Cubs in 2013
Mark A. Haroldson &Frank T. van Manen
The Interagency Grizzly Bear Study Team, composed of grizzly bear managers and researchers from both state and federal agencies within the Greater Yellowstone Ecosystem, is responsible for monitoring grizzly bear population trend. One method used by the study team to monitor trend is to track numbers of unique females with cubs-of-the-year (i.e., cubs) observed annually. Females with cubs represent the important reproductive segment of the population. Females produce cubs on average about every three years, so a three-year sum approximates the number of breeding or reproductive females in the population. To accomplish the count, team members compile sightings of females with cubs from annual survey flights and ground-based observations. Next, a "rule set," based primarily on distances between sighting and numbers of cubs in the family, is applied to produce a conservative estimate for the number of unique females with cubs observed. Results vary annually, but there has been a positive trend for the ecosystem since the mid-1980s, with a general leveling off starting in the early 2000s. However, results for 2013 were the highest count to-date, with an estimate of 58 unique females with cubs. For comparison, 49 unique females were identified in 2012 and 50 unique females observed in 2014. The three-year sum from 2012 to 2014 resulted in a total of 157 adult female grizzly bears living in the GYE. The record number of female grizzly bear sightings and the unique families derived from them were well-distributed throughout the ecosystem in 2013, with 15 females with cubs observed within Yellowstone National Park. The long-term average for females with cubs for Yellowstone National Park is 11, with high counts occurring in 1986 (n = 20), 2000 (n = 20), 2004 (n = 22), and 2010 (n = 20).
Some Bears Emerge from Dens Early in 2015
Kerry A.Gunther
Data from radio-collared bears indicate a small proportion of Yellowstone bears emerge from their dens in early February (figure 1). However, the first observed bear activity of the year is typically not reported until the first week of March, after many adult male bears have emerged from dens to feed on winter-killed ungulate carcasses and succulent emerging spring vegetation. This past winter some bears were observed out of their dens several weeks earlier than what is typical.The winter of 2014-2015 was unseasonably warm with above average temperatures and below average snowfall at elevations under 8,700 feet. At elevations under 7,350 feet, spring snowpack was well below average, due to extremely warm temperatures from mid-March through April. On January 25, a black bear was observed in the Bridger Mountains north of Yellowstone National Park;and on January 27th, grizzly bear tracks were observed near Pahaska Teepee, Wyoming, east of the park. On February 1st, a bear track was observed in the Beattie Gulch drainage, just north of the park boundary at Reese Creek. The first bear activity observed in Yellowstone National Park was a grizzly bear scavenging a bison carcass near Mud Volcano on February 9th. Over the next several days, this bear was observed by park visitors traveling by snowmobile and snow-coach through the park. Although a few bears emerged from dens earlier than typical (possibly because of warm temperatures, melting snow, or availability of food), many bears remained in their dens and emerged at dates more typical for their species, sex, and age class.