Trumpeter Swan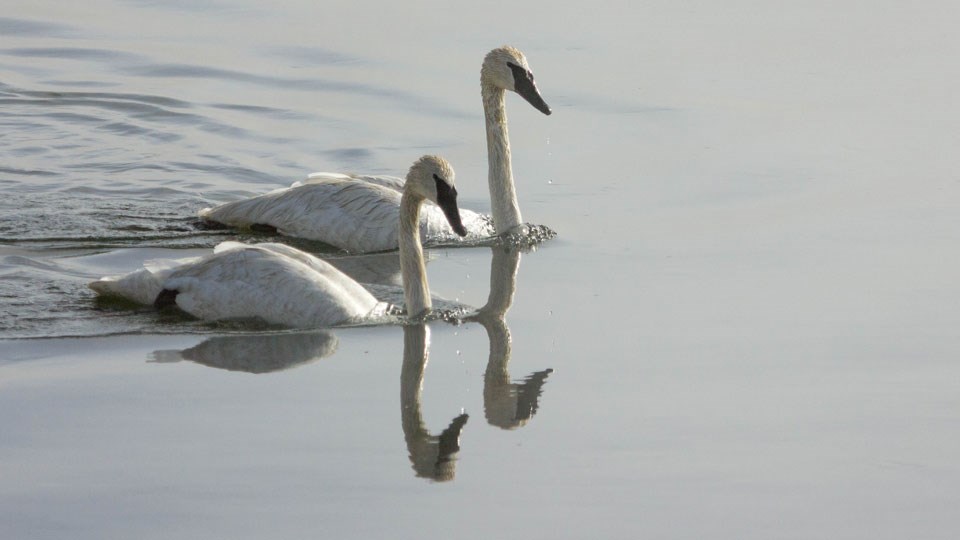 The trumpeter swan (Cygnus buccinator), named for its resonant call, is North America's largest wild waterfowl, with a wingspan of up to eight feet. These swans require open water, feed mainly on aquatic plants, and nest in wetlands. Although they once nested from Alaska to northern Missouri, trumpeter swans were nearly extirpated in the lower 48 states by 1930 due to habitat loss and hunting. Small populations survived in isolated areas such as the Greater Yellowstone Ecosystem, where the population was thought to number only 69.
As a result of conservation measures, populations across the continental United States began increasing. Today, there are approximately 46,000 trumpeter swans in North America. Swans in the Greater Yellowstone Ecosystem played a significant role in the population resurgence, but by the early 1960s, cygnet production in Yellowstone and subsequent recruitment of adults into the breeding population began declining.
Number in Yellowstone
29 resident swans in 2016, including releases and young of the year.
Trumpeter swans are increasing in the Rocky Mountains, stable in the Greater Yellowstone Ecosystem, but declining in Yellowstone National Park.
Identification
White feathers, black bill with a pink streak at the base of the upper mandible.
During migration, can be confused with the tundra swan. Trumpeters are larger, have narrower heads, have a pink mandible stripe, have no yellow spot in front of the eye.
Habitat
Slow-moving rivers or quiet lakes.
Nest is a large, floating mass of vegetation.
Behavior
Feed on submerged vegetation and aquatic invertebrates.
Low reproduction rates.
Can fail to hatch eggs if disturbed by humans.
Lay 4–6 eggs in June; young (cygnets) edge in late September or early October.
Usually in pairs with young in summer; larger groups in winter.
Management Concerns
Limiting factors in Yellowstone appear to be flooding of nests, predation, possibly effects of drought caused by climate change, and less immigration into the park from outside locations.
Because swans are sensitive to human disturbance during nesting, nest areas are closed to public entry.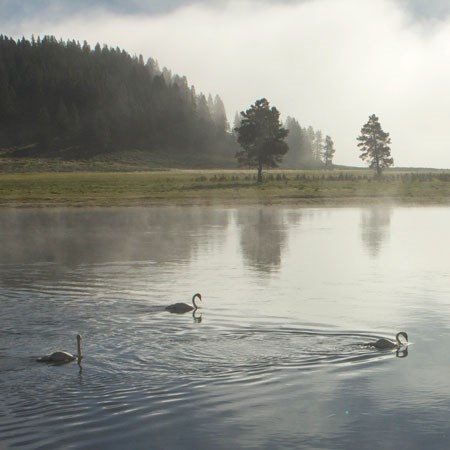 Population
The park's resident trumpeter swan population increased after counts began in 1931 and peaked at 72 in 1961. The number dropped after the Red Rock Lakes National Wildlife Refuge feeding program ended and winter ponds were drained in the early 1990s. Other factors contributing to the decline may include predation, climate change, and human disturbance. There are currently only 29 trumpeter swans in Yellowstone, including two breeding pairs, 19 additional non-breeding adult swans, and six cygnets.
During the 2016 breeding season, the two pairs of trumpeter swans nested in Yellowstone. The Riddle Lake pair fledged one cygnet. The other pair of swans nested on a floating nest platform installed at Grebe Lake in 2011 as part of a new management plan to increase swan productivity in the park. That nest also fledged two cygnets.
Three trumpeter swans were released in Hayden Valley on the Yellowstone River in 2016. This follows the release of four trumpeter swans in 2014, and three in 2015. Staff expect that at least one of the released swans will become bonded to their release location and return with a mate the following spring. The release program is part of an ongoing effort to augment Yellowstone's swan populations and increase the number of breeding pairs that nest inside the park.
Nearly all Rocky Mountain trumpeter swans—including several thousand that migrate from Canada—winter in ice-free waters in the Greater Yellowstone Ecosystem, but only a portion of them remain here to breed.
The best available scientific evidence suggests that Yellowstone provides marginal conditions for nesting and acts as a sink for swans dispersing from more productive areas. This effect has been compounded in recent decades by reduced wetland areas (due to long-term drought or warmer temperatures) and community dynamics (e.g., changes in bald eagle diets due to the limited availability of cutthroat trout in Yellowstone Lake). Trumpeter swan presence in the park may therefore be primarily limited to occasional residents and wintering migrants from outside the park. Concern about the Greater Yellowstone Ecosystem population has resulted in cooperative efforts between state and federal agencies to monitor swan distribution and productivity.
Federal agencies conduct two annual surveys: The February survey counts how many migrant swans winter in the region; the September survey estimates the resident swan population and annual number of young that fledge (leave the nest).
Outlook
Trumpeter swans are particularly sensitive to human disturbance. Because of this, park managers restrict human activity in known swan territories and nesting areas. Scientists are also conducting studies to determine the habitat requirements for nesting swans.
Watch the trumpeter swan Inside Yellowstone episode (2 min. 3 sec.)
Resources
Mitchell, C.D., and M.W. Eichholz. Trumpeter swan. The Birds of North America Online. http://bna.birds.cornell. edu/bna/
Proffitt, K.M. 2008. Yellowstone National Park trumpeter swan conservation assessment. Rocky Mountains Cooperative Ecosystem Studies Unit.
Proffitt, K.M., T.P. McEneaney, P.J. White, and R.A. Garrott. 2009. Trumpeter swan abundance and growth rates in Yellowstone National Park. Journal of Wildlife Management 73:728–736.
Proffitt, K.M., T.P. McEneaney, P.J. White, and R.A. Garrott. 2010. Productivity and fledging success of trumpeter swans in Yellowstone National Park, 1987–2007. Waterbirds 33:341–348.
Smith, D.W. and N. Chambers. 2011. The future of trum- peter swans in Yellowstone National Park: Final report summarizing expert workshop, April 26–27, 2011. National Park Service, Yellowstone Center for Resources, Yellowstone National Park, Wyoming.
Squires, J.R. and S.H. Anderson. 1995. Trumpeter swan (Cygnus buccinator) food habits in the Greater Yellowstone Ecosystem. American Midland Naturalist 133(2):274–282.
Squires, J.R. and S.H. Anderson. 1997. Changes in trum- peter swan (Cygnus buccinator) activities from winter to spring in the greater Yellowstone area. American Midland Naturalist 138(1):208–214.
White, P.J., K.M. Proffitt, T.P. McEneaney, R.A. Garrott, and D.W. Smith. 2011. Yellowstone's trumpeter swans in peril? Drastic decrease in resident swans over the past 40 years. Yellowstone Science 19:12–16.
Last updated: July 17, 2018