Terrestrial Gartersnake

Scientific Name
Thamnophis elegans
Identification
Most common reptile in the park.
6 to 30 inches long.
Brown, brownish green, or gray with three light stripes—one running the length of the back and a stripe on each side.
Habitat
Usually found near water in all areas of the park.
Eats small rodents, fish, frogs, tadpoles, salamanders, earthworms, slugs, snails, and leeches.
Behavior
May discharge musk from glands at the base of the tail when threatened.
Gives birth to as many as 20 live young in late summer or fall.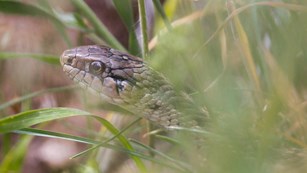 Reptiles
There are six reptile species in Yellowstone.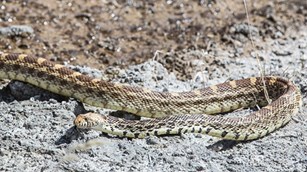 Bullsnake
Bullsnakes are often mistaken for rattlesnakes because of their appearance and behavior.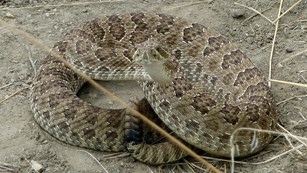 Prairie Rattlesnake
Prairie rattlesnakes are the only dangerously venomous snakes in Yellowstone.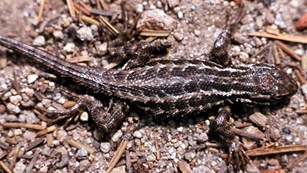 Sagebrush Lizard
The sagebrush lizard is the only lizard in Yellowstone.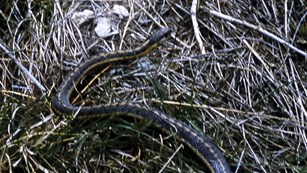 Common Gartersnake
Common gartersnakes are only found in southern parts of the park.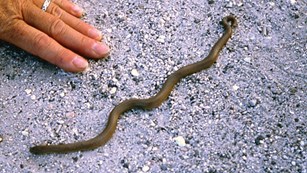 Rubber Boa
Rubber boas are usually found in rocky areas near streams or rivers with nearby shrubs or trees.
Last updated: June 14, 2017