Raven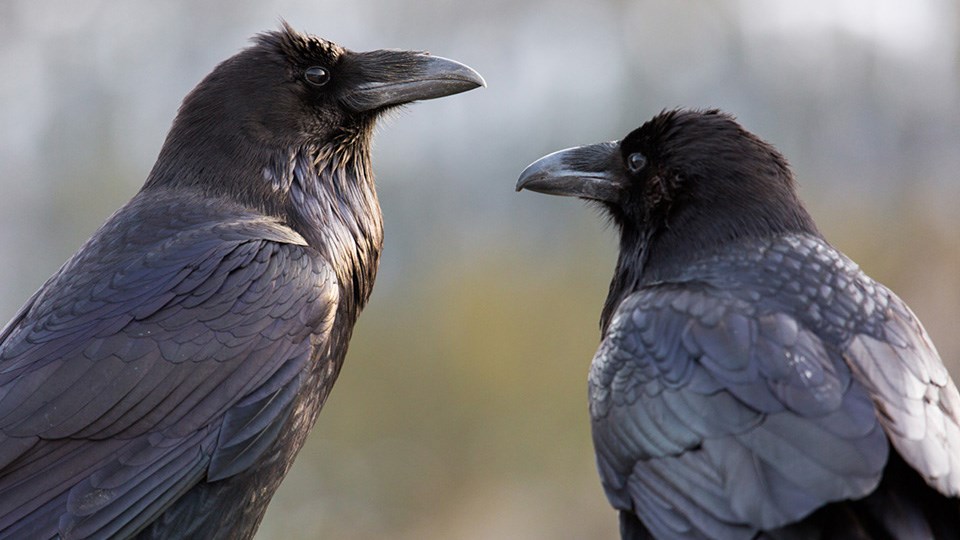 Several raven relatives live in Yellowstone, including the common raven (Corvus corax). Common ravens are smart birds, able to put together cause and effect. Ravens are attracted to wolf kills and may follow wolves while they hunt elk. Wolves also provide better access to carrion, as ravens are not able to rip open thick skin on their own. Ravens are willing to eat almost anything and are frequently seen near parking lots searching for food—some have even learned to unzip and unsnap packs. Do not feed them.
Recent surveys indicate 200–300 ravens are present in the northern range of Yellowstone and 53% of those are in wolf habitat, away from human areas. Before wolf reintroduction, nearly 74% of ravens likely used human areas. Researchers are further investigating seasonal and spatial patterns in raven habitat use, and their relationships with humans and wolves, by monitoring raven movements using satellite transmitters.
Resource
Cornell University, and American Ornithologists' Union. 2004. Birds of North America Online. Ithaca, NY: Cornell Lab of Ornithology. https://birdsna.org/.
Walker, L.E., et al. 2018. Population responses of common ravens to reintroduced gray wolves. Ecology and Evolution 2018;00:1-11.
Last updated: August 26, 2019