How your Application for a Research Permit is Processed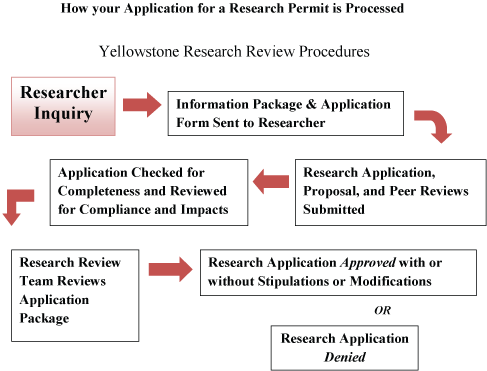 1.) Once the application and peer reviews are received on-line they are checked for completeness and prepared for consideration by the Research Permit Office and the Research Review Team by:
Composing a summary of the proposal.
Addressing questions the Research Review Team might ask.
Informing the appropriate park staff.
Reviewing for compliance with the National Environmental Policy Act (NEPA), the Wilderness Act, and other relevant regulations.
Evaluating the impacts to cultural and natural resources.
2.) Following project review by the Research Review Team, the proposal will be either:
Approved by the Research Review Team with or without stipulations or modifications such as limiting the amount of sample collections or restricting entry into closed, restricted, or sensitive areas, or denied.
Denied—a letter will be sent to the Principal Investigator with an explanation for denial.
3.) Once Yellowstone National Park approves a new research project and issues a research permit, an information packet is sent to the Principal Investigator, containing the following:
Instruction Letter
Permit
Field Ethics and Safety Brochure
Bear Safety Brochure
Dashboard Display Card
General Information Packet
Yellowstone Newspaper
Last updated: June 15, 2016