Common Loon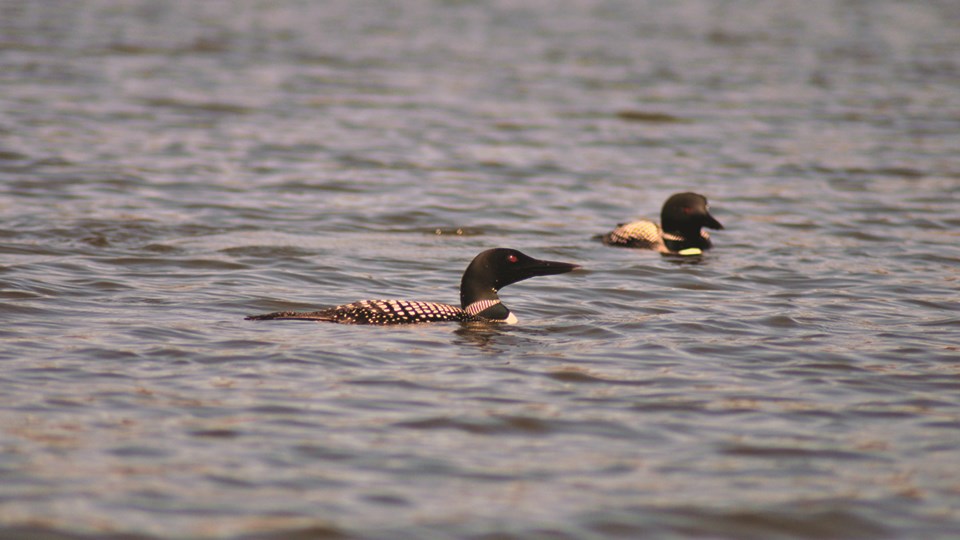 The park's common loon (Gavia immer) population is one of the most southerly breeding populations in North America. The majority of Wyoming's population of breeding common loons occurs in Yellowstone. The common loon is listed as a Species of Special Concern in Wyoming because of its limited range, small population, sensitivity to human disturbance, and loss of breeding habitat outside of Yellowstone. Wyoming's breeding loon population is isolated from populations to the north by more than 200 miles, limiting immigration from other populations. Since the mid-2000s, Wyoming's population has declined by 38%. Yellowstone's loon population has declined since surveys began in 1989, with a more dramatic decline in 2006. However, detailed data from a study initiated in 2012 indicate that the number of loons present in the park can vary widely from year to year. Continuing research will try to analyze any trends in productivity, nesting success, and number of breeding pairs to attempt to determine why some years are more productive than others.
Population
In 2019, biologists and park staff checked at least 34 known or historic loon territories. Twenty of the territories were occupied by at least one loon. In total, the park housed 39 adult loons and 15 pairs. Twelve pairs attempted to nest, and five of those failed. The seven successful pairs produced nine loonlets during 2019.

Distribution
In the western United States, common loons breed in Idaho, Montana, Washington, and Wyoming. The total western US breeding population is estimated at 90 territorial pairs. In 2019, Yellowstone National Park hosted 70% of the GYE's total loon population and 67% of the breeding pairs. Furthermore, YNP loons produced 53% of the ecosystem's fledged chicks, highlighting the park's important role in regional loon population stability and persistence. Western populations of breeding common loons are known to overwinter from Washington south to California. Spring and fall migrants in Wyoming represent breeding populations from Saskatchewan that overwinter around Mexico's Baja California peninsula.
Outlook
There are several threats to Wyoming's loon populations. Direct human disturbance to shoreline nests and chicks lowers survival rates, as do the loss of breeding habitats and water level fluctuations (e.g., erratic spring flooding).
Contaminants like lead (from sinkers) and mercury, in combination with hazards on wintering grounds (e.g., marine oil spills and fishing nets) challenge loon reproduction and survival even further. Visitors to Yellowstone's lakes can help minimize disturbance of loon nests by staying on trails during the breeding season, avoiding shorelines, and, as with all wildlife species, giving adult and fledgling loons plenty of space.
Several loons are killed every year on Yellowstone Lake by gill nets as bycatch in the park's effort to remove invasive lake trout from the lake. Ongoing research will better assess patterns in gillnetting mortalities to improve coordination with fisheries crews, reducing the threat to local loons while allowing for continued lake trout removal.
Fish are the primary prey of loons. As part of a multi-park study on mercury concentration in fish, fish from various lakes where loons nest were screened for mercury. Fish were sampled from Beula, Grebe, Yellowstone, and Lewis Lakes. Fish from Beula, Grebe, and Yellowstone lakes exceeded the threshold at which fish-eating birds may be affected by mercury toxicity. Fish from Lewis did not exceed that threshold although they still contained mercury.
Loons are long-lived; they have relatively low chick production and a poor ability to colonize new breeding areas. Given the very small size and isolation of Wyoming's breeding loon population, it is at a particularly high risk of local extinction.
Last updated: July 13, 2020