Common Gartersnake

Scientific Name
Thamnophis sirtalis
Identification
Medium sized snake up to 34 inches long.
Nearly black background color with three bright stripes running the length of the body; underside is pale yellow or bluish gray.
Most distinguishing characteristics of this subspecies in our region are the irregular red spots along the sides.
Habitat
Thought to be common in the past, now in decline for no apparent reason.
Closely associated with permanent surface water.
In Yellowstone area, observed only in the Falls River drainage in the Bechler region and three miles south of the south entrance along the Snake River.
Behavior
Generally active during the day.
In the Yellowstone area it eats mostly toads, chorus frogs, fish remains, and earthworms; can eat relatively poisonous species. Reliance on amphibian prey may contribute to reports of declines of this species in the Greater Yellowstone Area.
Predators include fish, birds, and carnivorous mammals.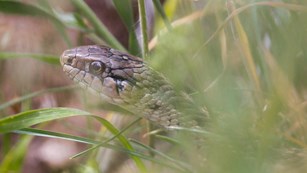 Reptiles
There are six reptile species in Yellowstone.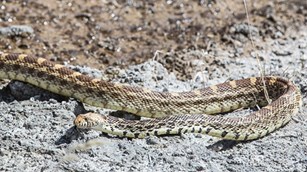 Bullsnake
Bullsnakes are often mistaken for rattlesnakes because of their appearance and behavior.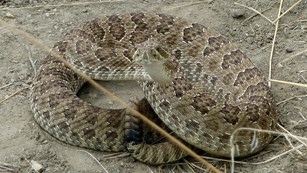 Prairie Rattlesnake
Prairie rattlesnakes are the only dangerously venomous snakes in Yellowstone.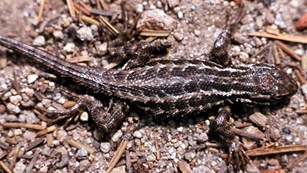 Sagebrush Lizard
The sagebrush lizard is the only lizard in Yellowstone.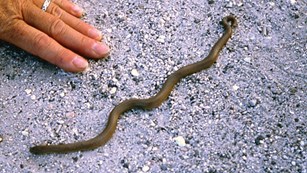 Rubber Boa
Rubber boas are usually found in rocky areas near streams or rivers with nearby shrubs or trees.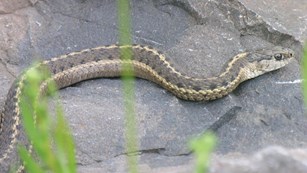 Terrestrial Gartersnake
Terrestrial gartersnakes are the most common reptile in Yellowstone.
Last updated: June 14, 2017