Bullsnake

Scientific Name
Pituophis catenifer sayi
Identification
A subspecies of the gopher snake, is Yellowstone's largest reptile, ranging from 50 to 72 inches long.
Yellowish with a series of black, brown, or reddish-brown blotches down the back; the darkest, most contrasting colors are near the head and tail; blotches are shaped as rings around the tail.
Head resembles a turtle's in shape, with a protruding scale at the tip of the snout and a dark band extending from the top of the head through the eye to the lower jaw.
Habitat
In Yellowstone, found at lower elevations; drier, warmer climates; and open areas such as near Mammoth.
Behavior
Lives in burrows and eats small rodents—behavior that gave the bullsnake another common name: gopher snake.
Often mistaken for a rattlesnake because of its appearance and its defensive behavior: when disturbed, it will coil up, hiss loudly, and vibrate its tail against the ground, producing a rattling sound.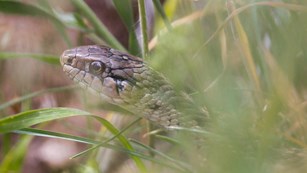 Reptiles
There are six reptile species in Yellowstone.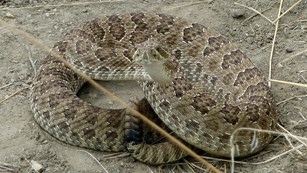 Prairie Rattlesnake
Prairie rattlesnakes are the only dangerously venomous snakes in Yellowstone.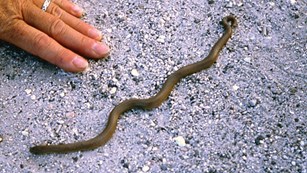 Rubber Boa
Rubber boas are usually found in rocky areas near streams or rivers with nearby shrubs or trees.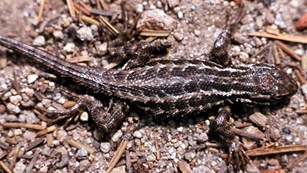 Sagebrush Lizard
The sagebrush lizard is the only lizard in Yellowstone.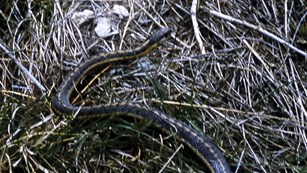 Common Gartersnake
Common gartersnakes are only found in southern parts of the park.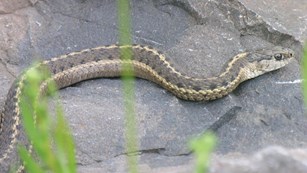 Terrestrial Gartersnake
Terrestrial gartersnakes are the most common reptile in Yellowstone.
Last updated: June 14, 2017