Bald Eagle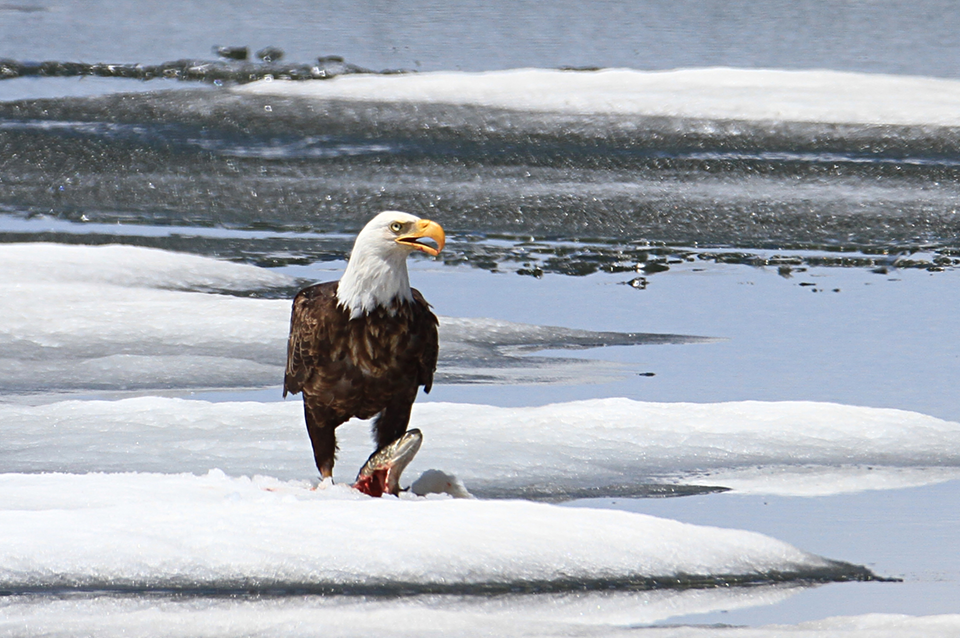 The bald eagle (Haliaeetus leucocephalus) was named the national symbol of the United States by Congress in 1782. Found near open water from Mexico to Alaska, bald eagles may range over great distances but typically return to nest in the vicinity where they fledged. In Greater Yellowstone they feed primarily on fish, but also on waterfowl and carrion. Numbers declined dramatically during most of the 1900s due to habitat loss, shooting, and pesticide contamination. In 1967, the US Fish and Wildlife Service listed the bald eagle as an endangered species in 43 states, including Idaho, Montana, and Wyoming. Habitat protection, restrictions on killing, and restrictions on pesticide use led to population growth and delisting of the species in 2007. Bald eagles nesting in northwestern Wyoming are part of the Rocky Mountain breeding population that extends into Idaho and Montana.
Population
Bald eagles, which may reuse the same nest year after year, occupy territories near the park's major rivers and lakes. The number of eaglets that fledge each year depends partly on weather and can fluctuate widely. Juveniles may migrate west in the fall but adults often stay in the park year-round. Historically, about half of the park's known bald eagle nests have been in the Yellowstone Lake area, where the productivity and success rates are generally much lower than in the rest of the park. However, in 2018, only seven of seventeen active nests in the park were on Yellowstone Lake. Of those seven, three were successful and fledged four young in total. A recent study found little evidence to support the claim that cutthroat trout declines have resulted in lower nesting success for bald eagles on Yellowstone Lake.
Outlook
Research has shown that human presence can disturb eagle nesting and foraging, therefore nest areas in national parks may be closed to visitors. Yellowstone manages nest sites on a case by case basis.
Resources
1940. Bald Eagle Protection Act of 1940 In 16 US Code 668- 668d, 54 Stat. 250.
Annual Bird Program Reports. National Park Service, Yellowstone National Park. https://www.nps.gov/yell/nature/birdreports.htm
Baril, L.M., D.W. Smith, T. Drummer, and T.M. Koel. 2013. Implications of cutthroat trout declines for breeding ospreys and bald eagles at Yellowstone Lake. Journal of Raptor Research 47(3): 234–245.
Buehler, D.A. Bald Eagle. The Birds of North America Online. https://birdsna.org/Species-Account/bna/home
Crandall, R.H. 2013. Identifying environmental factors influencing golden eagle presence and reproductive success. Thesis. University of Montana, Missoula, Montana, USA.
Harmata, A. 1994. Yellowstone's bald eagles: Is the park a "black hole" for the national symbol? Yellowstone Science 2.
Harmata, A.R. and B. Oakleaf. 1992. Bald eagles in the greater Yellowstone ecosystem: an ecological study with emphasis on the Snake River, Wyoming. Edited by Wyoming Game and Fish Department. Cheyenne, WY.
Harmata, A.R., G.J. Montopoli, B. Oakleaf, P.J. Harmata, and M. Restani. 1999. Movements and survival of bald eagles banded in the Greater Yellowstone Ecosystem. Journal of Wildlife Management 63(3):781–793.
Preston, C.R., R.E. Jones, N.S. Horton. 2017. Golden Eagle Diet Breadth and Reproduction in Relation to Fluctuations in Primary Prey Abundance in Wyoming's Bighorn Basin. Journal of Raptor Research 51(3): 334-346
Steenhof, K., M.N. Kochert, T.L. McDonald. 1997. Interactive Effects of Prey and Weather on Golden Eagle Reproduction. Journal of Animal Ecology 66:350-362
Swenson, J.E. 1975. Ecology of the bald eagle and osprey in Yellowstone National Park. M.S. Bozeman, MT: Montana State University.
Last updated: August 28, 2019