Badger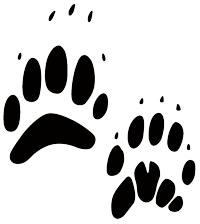 Scientific Name
Taxidea taxus
Identification
22–28 inches long, 13–25 pounds.
Short and stout; adapted to digging.
Light body with dark stripe down back and darker feet. Broad head forms a wedge. Sides of face are white with black patches, white stripe from nose extends towards back.
Habitat
Prefers open areas like grasslands.
Adapted to eat ground squirrels, pocket gophers, and other small rodents; will also eat ground-nesting birds and their eggs. Average badger needs to eat about two ground squirrels or pocket gophers a day to maintain its weight. Digs burrows in pursuit of prey.
Adults preyed on by mountain lions, bears, and wolves. Coyotes and eagles will prey on young.
Behavior
Mostly solitary except in mating season (summer and early fall). Have delayed implantation; active gestation starts around February.
Excavated dens are used for daytime resting sites, food storage, and giving birth. Typically have one entrance, marked by a mound of soil. May be inactive in their dens for up to a month in winter, but they are not true hibernators.
Mostly active at night. May live up to 14 years.
Last updated: October 21, 2020