1917 White Open Touring Buses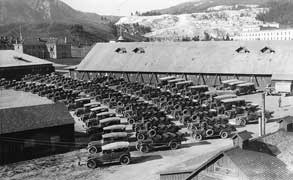 The White Motor Company of Cleveland, Ohio, manufactured the majority of motorized vehicles in Yellowstone's museum collection. The company began as an offshoot of the White Sewing Machine Company in 1901 when the White Steam Car was brought into production, and by 1906, production requirements were so great that a separate corporation, White Motor Company, was founded. The company manufactured a wide variety of vehicles, including early touring cars and open touring buses, numerous types of trucks, National Park and Highway Post Office buses, as well as half-tracks used by the U.S. Army during World War Two.
1917 eleven-passenger TEB open touring bus, Y.P.T. Co. 1. Museum Catalog Number YELL 90070. This vehicle has a 4-cylinder engine, and Prest-o-Lite acetylene lighting system. It originally had eight doors, but was modified to four operating curbside doors (the doors on the driver's side were screwed shut) for passengers' safety. The body is constructed of sheet metal over wood, with linoleum-covered running boards and interior floors. The convertible canvas top and luggage boot are reproductions. It has four bench seats with leather upholstery, and leather straps behind the seats to hold blankets for passengers (the vehicle is not heated).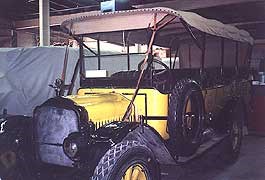 The vehicle's chassis was actually constructed in July, 1916, and was evidently the beginning of White's production of the Yellowstone Park Transportation Company's 1917 order. Commonly referred to as "Old Number One", this number is consistent with the 1929 Y.P.T. Company inventory in the park's archives. The bus was last operated in 1993 during the celebration of
Yellowstone
's 100 millionth visitor.
Last updated: October 28, 2016