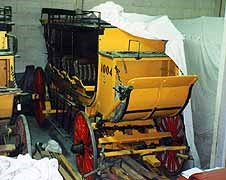 The Yellowstone Park Transportation Company's roots date back to it's association with the Northern Pacific Railroad. In 1883 a stage line was created which ran from the Northern Pacific terminal in Cinnabar,
Montana
(later relocated at
Gardiner, Montana
) to and through
Yellowstone
Park
. By 1886, the company had a fleet of sightseeing vehicles, the most popular being the Yellowstone Coaches, which were painted bright yellow and manufactured by the Abbot-Downing Company of
Concord, New Hampshire
. The larger six-horse "Tally-Ho" stagecoaches transported visitors from the train depot to the hotel at Mammoth Hot Springs. Yellowstone Observation Wagons, which had a four-horse team, were then used to take visitors on the "Grand Loop" tour through the park.