Park History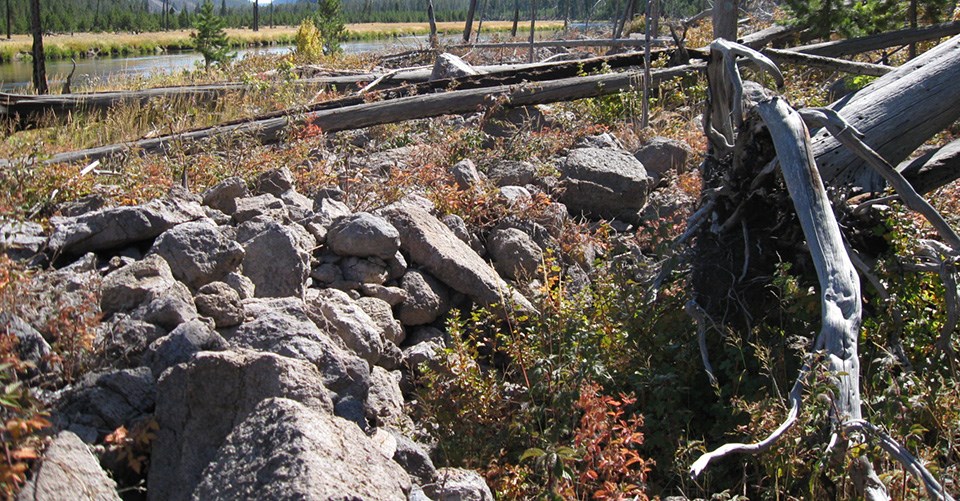 The human history of the Yellowstone region goes back more than 11,000 years. The stories of people in Yellowstone are preserved in archeological sites and objects that convey information about past human activities in the region, and in people's connections to the land that provide a sense of place or identity.
Today, park managers use archeological and historical studies to help us understand how people lived here in the past. Ethnography helps us learn about how groups of people identify themselves and their connections to the park. Research is also conducted to learn how people continue to affect and be affected by these places, many of which have been relatively protected from human impacts. Some alterations to the landscape, such as the construction of roads and other facilities, are generally accepted as necessary to accommodate the needs of visitors today. Information on the possible consequences of modern human activities, both inside and outside the parks, is used to determine how best to preserve Yellowstone's natural and cultural resources, and the quality of the visitors' experience.
Resources
Bartlett, R. 1985. Yellowstone: A wilderness besieged. Tucson: University of Arizona Press.
Carr, E. 2007. Mission 66: Modernism and the national park dilemma. Amherst: University of Massachusetts Press.
Clary, D. 1993. The place where hell bubbled up: A history of Yellowstone National Park. Moose, WY: Homestead Publishing.
Cook, C.W., D.E. Folsom, and W. Peterson. 1965. The Valley of the Upper Yellowstone: An exploration of the headwaters of the Yellowstone River in the year 1869. Norman: University of Oklahoma Press.
Culpin, M.S. 2003. For the benefit and enjoyment of the people: A history of concession development in Yellowstone National Park, 1872–1966. YCR-CR-2003-01. NPS, Mammoth, WY.
Davis, L.B. 1996. The Obsidian Cliff plateau prehistoric lithic source, Yellowstone National Park, Wyoming. Denver: National Park Service Selections Series, No. 6.
Everhart, W. 1983. The National Park Service. Boulder: Westview Press.
Frison, G. 1978. Prehistoric hunters of the high plains. New York: Academic Press.
Haines, A. 1996. The Yellowstone story: A history of our first national park. 2 vols. Niwot: University Press of Colorado.
Janetski, J.C. 2002. Indians of Yellowstone Park. Revised edition. Salt Lake City: University of Utah Press.
Langford, N.P. 1972. The discovery of Yellowstone Park. Lincoln: University of Nebraska Press.
Leopold, A.S. et al. 1963. Wildlife management in the national parks. https://www.nps.gov/parkhistory/online_books/leopold/leopold.htm
MacDonald, D.H. 2018. Before Yellowstone: Native American archaeology in the national park. Seattle: University of Washington Press.
Merrill, M. 1999. Yellowstone and the great West: Journals, letters, and images from the 1871 Hayden Expedition. Lincoln: University of Nebraska Press.
Nabokov, P. and L. Loendorf. 2004. Restoring a presence: American Indians in Yellowstone National Park. Norman: University of Oklahoma.
National Park Service. Management Policies 2006. https://www.nps.gov/policy/mp/policies.html
Reinhart, K. and J. Henry. 2004. Old Faithful Inn: Crown jewel of national park lodges. Emigrant, MT: Roche Jaune Pictures, Inc.
Schullery, P., editor. 2010. Old Yellowstone Days. Boulder: Colorado Associated University Press. (Orig. pub. 1979.)
Schullery, P. 2004. Searching for Yellowstone. Houghton Mifflin. (Orig. pub. 1997.)
Smith, J. F. 2016. Engineering Eden: The True Story of a Violent Death, a Trial, and the Fight over Controlling Nature. New York: Crown Publishers.
Strong, W.E. 1968. A Trip to Yellowstone National Park in July, August, and September of 1875. Norman: University of Oklahoma Press.
Weixelman, J. 2001. Fear or reverence? Yellowstone Science 9(4).
Whittlesey, L.. 2006. Yellowstone place names. Wonderland Publishing Co.
Whittlesey, L.H. and P. Schullery. 2003. Myth and history in the creation of Yellowstone National Park. Lincoln/ University of Nebraska.
Last updated: September 12, 2019