Observation Wagons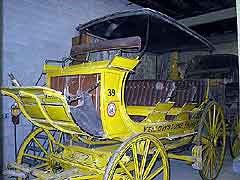 4-Horse
Yellowstone
Observation Wagon,
Yellowstone
Park Company "39". Museum Catalog Number YELL 90065. The wooden body of this stagecoach features a passenger compartment with three forward facing seats. Leather thorough braces are attached below the compartment for shock absorption. The driver's box in front has a seat for the driver on the right side (beside the brake handle). A leather luggage boot is mounted to the exterior aft section of the stage. The body is painted yellow, and the undercarriage is yellow with black pin striping. "YELLOWSTONE PARK CO." is in black along the passenger compartment panels. A YP Co. circular logo decal (red, white and blue with a bear at the center) and "39" painted in black are on each side of the driver's box.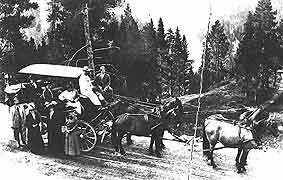 This coach and others like it were custom built by the Abbot-Downing Company for the YPT Co. specifically for touring
Yellowstone
National Park
. After the stagecoach era, it was probably used at Roosevelt Lodge for visitor entertainment and parts were continuously repaired and replaced over time to keep the vehicle in service. Non-original components include seat cushions and seat back upholstery, and numerous segments of the body and hardwood fittings. Despite these modifications, it still retains a fairly original appearance, particularly in comparison to other coaches in the collection.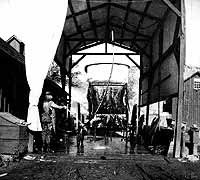 Yellowstone's archives include images of historic vehicles.
Last updated: July 8, 2016