Thomas Moran's Diary - Page 5
July 31st
Left the falls reached crater Hill. large Sulpher spring & many mud springs left at noon & camped at the mud volcano
Aug 1st photo & sketching at mud volcano. Left mud volcano at noon & reached the Yellowstone Lake where the whole party & Escort were encamped.
Aug 2nd made photographs & sketches of the Lake & river in forenoon. followed the main Camp in the afternoon to the Hot springs on the Border Border of the Lake. 30 miles through Heavy timber & was lost for several Hours at night in a dense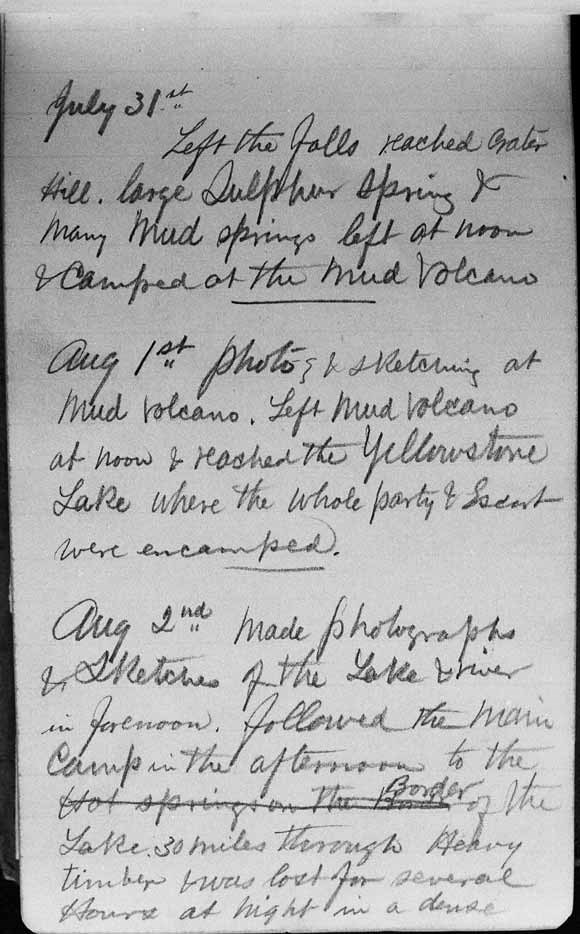 forest on a mountain side covered with fallen trees. got into Camp at 10½ Oclock
Aug 3rd Moved Camp a few miles farther round the Lake to the Hot springs
Aug 4th remained all this day at the same Camp. did some sketching about the springs. took the Boat to the springs farther round the lake & had a hard pull to get back as the Lake was rough & the wind against us.
Aug 5. Camp moved to the springs visited yesterday
Last updated: June 3, 2015